During the Seventies, I happened to read a detailed programme from a travel agency that organized hiking tours in Northern Canada.  This included a rather complex list of clothing and equipment required, which concluded with "... and a knife costing no less than a hundred dollars".   At the time, this was a large amount to spend on a single customized knife.  However, this indication of the price highlighted, unequivocally, the usefulness of a knife in extreme conditions such as hiking, and the need to rely on a high quality product without being governed by the course of fashion.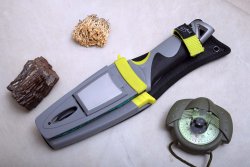 These were to take centre stage, on a large scale, ten years later when those debateable survival courses for managers needing to raise their self-esteem became fashionable. 
I was made to go on one of these, which was designed so that nobody could get hurt, though it did reward me with the comical experience of seeing laws being enforced on wild territory! 
The knife that almost everyone was carrying had a hollow handle containing a  tiny and unreliable compass, three windproof matches, two hooks, a bit of nylon thread for fishing, and a few other futile extras.  The reliability of those knifes was soon apparent when three of them, while being used as cantilevers, snapped at the fragile joint between the blade and the handle.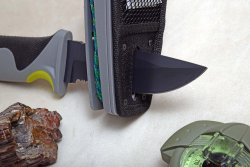 On examining this Camillus the perilous factor associated with these knives is evident in its design, carried out by somebody who has made a living from coping in extreme situations. 
To start with, the knife does not have a hollow handle, nor any points where it could become weakened.   Then, it takes into account the real needs of the user, the first of which is to have a knife that can really cut. 
Since, eventually, it will lose its factory-fresh sharpness and begin to stop cutting properly, a window is provided in the sheath in which two sturdy shards, arranged in a V-shape, serve as a sharpener, having been initially positioned at the perfect angle. Found joined into the sheaths of various survival knives, this is a much better solution to using a sharpening stone.  This is because using a stone requires a certain manual dexterity, without which can result in the exacerbation of an already critical situation.  The knife, sharpened in this way, does not allow shaving or making surgical incisions, but makes a fresh cut, which is the desired result.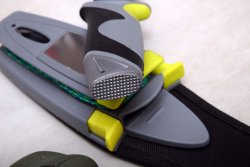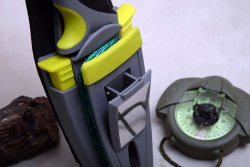 The knife is free from fussy extras, with the only addition to the blade and handle being a sturdy pommel with a burrow for a thin leather strap, and which can function as a hammer .  The design is clever because the pommel's oblique form positions the knife horizontally when it is put to the test; therefore, the hammer can function securely. 
All the necessary accessories are in the sheath. 
The small metallic mirror functions as a heliograph for signalling.  The slot for sharpening, which is aptly restricted on inserting the knife into the sheath, serves as a pointer.  This is not very precise, but it always a better option to tracking with your eyes. 
Under the mirror there is a cavity for storing small items;  essentially for your water  purification tablets. 
There are not many around, but a beaker for distilling water, to be done with a plastic sheet and a similar sized one in aluminium, should always be found in the backpack of those venturing out to the more gruelling areas.  Other emergency necessities are fire and light.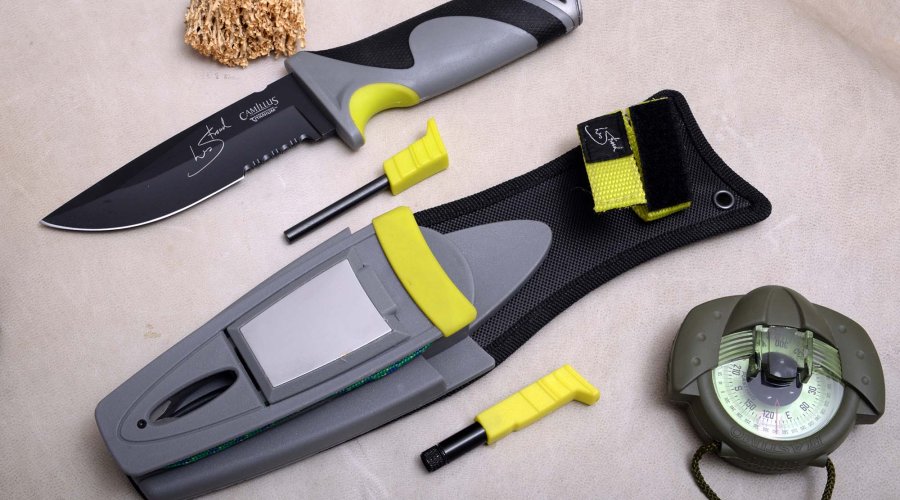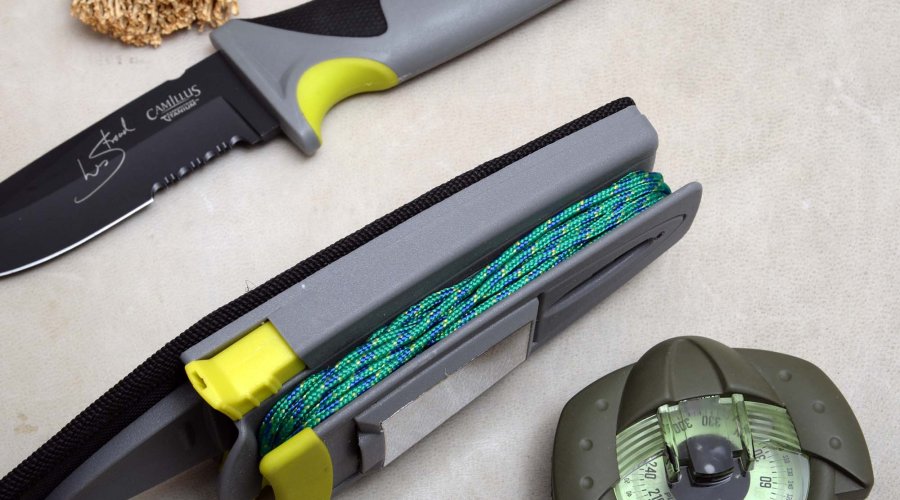 This can be ignited with a flame, but first you must light it up by collecting, even in snowy conditions, dry twigs and more sturdy branches.  If it is dark a fire is useful, but we cannot light this up because we lack the materials. 
So, positioned on the edge so as to serve as a thumb rest for removing the knife from the sheath, we have two side pockets containing, in one a tiny but efficient electric flashlight combined with a whistle, and in the other a ferro cerium firelighter that will last long after the three windproof matches contained in the hollow handles of the knives for those enforcing law in wild territory!.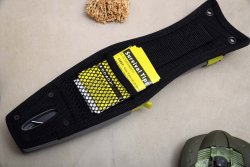 The apparatus is completed with a sturdy nylon cord wrapped around the sheath. 
You cannot really see the wood for the trees here, but when it is needed, you will undoubtedly find it.  Finally, in a pocket at the back of the sheath is a paper insert with the fundamentals for survival. A knife like this is useful for when you are pushed to the limits of necessity in real life survival situations, but you can also you can reap many benefits from using this if you are simply just campers or hunters in a remote area.