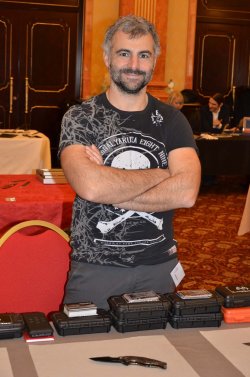 In the course of my usual wanderings through knife exhibitions I had already noticed for some time the presence of a young Italian knife-maker who proposed his models in a watertight case, which is actually quite unusual. I must admit that it was this detail to make me notice for the first time Manuele Messori and his knives. Over the last few years, I have been able to see the great originality and quality of his work, so I decided to share with all4shooters.com readers a virtual chat with him.
Hi Manuele. Please, tell all4shooters.com friends something about you...
I live in Arceto, a small village near Reggio Emilia, in Italy. I am a mechanical designer and I currently work at Kohler, a US company that produces diesel engines exported all over the world. In addition to knives I have another passion: martial arts. I have been studying various styles such as Aikido, Filipino Kali, Jeet Kune Do, Silat and Brazilian Ju-jitsu since I was a teenager and this brought me closer to the world of swords and ancient katanas, to which I have dedicated as much passion.
When and how did you start making knives?
I've been making knives since 2010, when a friend gave me a piece of a truck leaf spring  forged by him and said: "Try making a knife from this, if you can!" Since then, I have discovered a world of materials, geometries and construction techniques that have taken me to where I am today.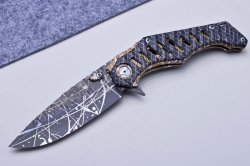 How would you define the style of your knives?
Maybe it is trivial to describe it as "unique", but I think that's the truth... Comparing myself to other knife makers from all over the world I can say that my blades stand out for their uniqueness, a combination of materials and design. At the moment I'm trying to fill the gap between "tactical" and collector's knives, a gap few people still deal with today.
What materials do you prefer for blades and handles? Which do you prefer to work with?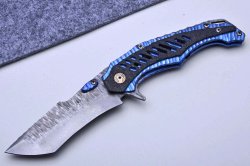 As for the blades, Damascus steels are absolutely my favorite, but for reasons of cost and market – for lack of a better term –, Damascus steels are currently very expensive. So I'm using many super steels such as ATS 34, RWL34 and Elmax. In the past I used a lot of k720 and 1095 and even with these I had a great time. For handles I use a lot of synthetic materials, titanium and zirconium, even if I love stabilized burl woods.
What equipment do you have in your workshop?
At the moment, in addition to numerous files and sanding papers – which can never miss – I have a belt sander with several wheels of 250-150-100 mm diameter, a manual benchtop milling machine – which allows me to carry out much of the work to make the locking systems – , a bench lathe and a furnace for hardening stainless steel. I also have a titanium anodizer and a small press for making Kydex sheaths.
What do you think is the best quality of your knives?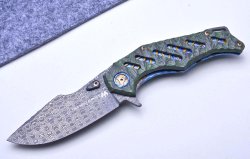 Usually I prefer "usable" steels precisely because I'd like my knives to go many miles in my customers' pockets (within the law, of course). That's why from 2014 I coat the blades with DLC, which allows to protect even carbon steels from oxidation. To this I try to add an attractive design and a mix of materials hard to find on the market, so that I can "tailor made" the knife according to the customer's requests.
And what's the most challenging part to manufacture?
There are many complex processes in the creation of a folder. As for me, the most complex part is definitely the symmetry of the knife. Since I make everything completely by hand without any templates, I rely exclusively on my eyes trying to improve every day.
Unlike many other knife makers, you offer your blades in tactical cases: tell us more about this idea.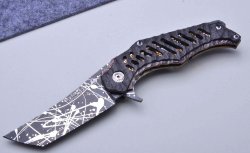 The need to have a more modern case to store your knife was born from a personal need. I wanted a handy case into which I could carry a knife, a fire starter and other tools without having them moving freely inside my backpack. So I bought the first cases online. Then, seeing that this solution could "complete" the product, I went one step further looking for more professional, watertight and possibly "made in Italy" cases. Finally, I'm having the foam inside the case cut to the exact shape of the knife, so that it can be stored at best during transport.
Which fairs and exhibitions do you participate in?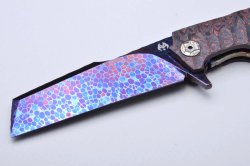 Among others, in 2020 I'd have liked to take part in the Milan CIC SHOW.  I was also planning to participate in other exhibitions such as the Blade Show in Atlanta, the FICX in Paris and the Gemblox exhibition in Belgium. Unfortunately, the Covid-19 emergency made it impossible to hold the exhibitions, planned for the first half of the year. We will see how the situation evolves in the future.

What are your web contacts?

My web page is www.messoriknife.com 
On Instagram and Facebook you can find me as @messoriknife