Not quite the usual, boring "1911-style" pistols: the two-gun set that Dallas-based auction house Heritage Auctions will be selling at an auction on July 20 is estimated at 1,000,000 - 1,500,000 USD. The reason is that the two pistols actually came from the deep space, being made from the Muonionalusta Meteorite which fell in Sweden likely about 1 million years ago. The set includes a GI Model and a Custom Model 1911s, and both pistols  are the work of the noted gunsmith Lou Biondo of Business End Customs, a company whose declared mission is "to offer the highest quality custom 1911 craftsmanship". 
The pistols are presented in Blaze Display Cases for security and safety. The GI version has a standard slide grip safety, and the Custom version features a beaver-tail grip safety.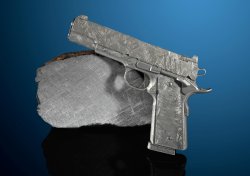 The Muonionalusta Meteorite was first discovered in Sweden in 1906 and is thought to be one of the oldest meteorites dating to some 4.5 billion years. As explained on Heritage Auctions's site, the guns are both in very good - to excellent - condition, showing just a few scattered scuffs with a light handling wear. The actions are crisp and bores are mirror-bright. "The world famous Iron features an amazing Widmanstätten pattern when etched that makes the pistols so visually striking. Obviously, a significant amount of meteorite was required as the 'raw material' for this cool enterprise."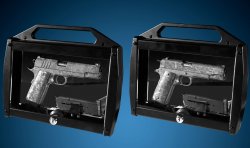 Interestingly enough, even if each gun was test fired with 35 rounds, the auction company warns that "it is not recommended that these incomparable pistols be an everyday sidearm or be used regularly as the metallic content was not designed for such a use, but these are working guns that fire .45 caliber bullets." In the event they don't not sell as a set, the individual pistols will be offered separately immediately following the closing of the auction.
Needless to say, this offering is literally a true "one-of-a-kind" and could probably appeal to firearms and astronomy enthusiasts alike. Provided that they are well supplied with money, of course.