Traditions Performance Firearms is a U.S. Company specializing in black powder rifles and revolvers, and even small cannons as well as a full line of accessories and optics. 

In particular, Traditions has been continuously expanding its muzzleloading lineup with somewhat surprising products. For 2023, Traditions is introducing the ShedHorn, a percussion-lock rifle in .50 caliber. Described as "a great option for all sidelock enthusiasts who are looking for modern innovation while still being primitive", the ShedHorn has a musket cap ignition and fires loose powder or Pyrodex. Thanks to a chromoly steel barrel it is lightweight and easy to carry. The 1:28" barrel twist allows you to fire saboted and more modern projectiles. The ShedHorn is also equipped with Traditions' Accelerator Breech Plug that seals up the rear of the muzzleloader and features a flat bolt face with durable o-ring and a knurled head for tool-free removal, making cleaning easy. Additional features of the ShedHorn include a double set trigger, premium Cerakote finish on the outside of the barrel in various colors, and fiber optic sights. The rifle is available for 2023 in configurations of synthetic black, Veil Wideland camo, or wood stocks. MSRP ranges from $468 to $559.
Traditions' flintlock muzzleloaders and FireStick technology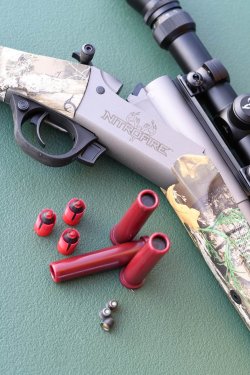 Admittedly, a percussion-lock gun with a modern-looking camo stock and fiber optic sights is impressive enough. But if you want to go even more "primitive-style", Traditions offers flintlock muzzleloaders too, such as the PA Pellet Ultralight series, featuring Cerakote-finished Chromoly steel barrels and available with Mossy Oak / Mossy Veil Wideland camo pattern, black or hardwood stocks.
But Traditions is also innovation in muzzleloading firearms: in collaboration with Federal Premium and Hodgdon Powder, in 2020 they introduced the NitroFire series with FireStick technology to make muzzleloading safer, more reliable, and more consistent. Federal Premium FireStick is an ignition system that uses an encapsulated propellant charge that loads from the breech, with the bullet loaded from the muzzle. 
According to the manufacturer, the charge is completely impervious to moisture and loaded with clean-burning Hodgdon Triple Eight powder to the same tight tolerances as Federal Premium factory ammunition, ensuring shot-to-shot consistency and accuracy. 
FireStick also unloads quickly, simply and safely by slipping out of the action with no need to fire the rifle.