We won't be wrong to say that the British Shooting Show is one of the biggest and best UK's trade/retail shooting, hunting and outdoor shows. 
What to expect at British Shooting Show 2020 in Birmingham?:
The finest brands of the homebred and world-wide industry will be showcased throughout the expansive exhibition halls of the National Exhibition Centre (NEC), in Birmingham. With well over 600 manufacturers, distributors and retailers providing required service for shooting and hunting enthusiasts worldwide. And all of the listed above is under one roof of the Britain's best connected exhibition venues.
Is there anything to see? Well…

The Great British Shooting Show gives everyone the opportunity to get their hands on the very latest gadgets, accessories, shotguns, rifles and much more from the huge range of manufacturers and retailers. If you're looking for night vision or thermal imaging equipment, then it is place for you, as all the major distributors from within the specialized area of the industry are at the show.

One of the greatest additions is a night vision tunnel where you can try and see just how amazing technology is before you make your mind up. This tunnel gives you opportunity to actually use the item and see how its works and performs, which will save you a lot of time from researching and asking lots of questions.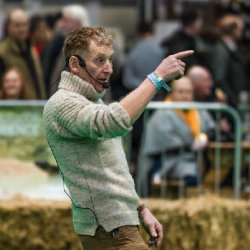 At the BSS visitors can pick up and familiarize themselves with large range of pistols, air rifles, shotguns, rifles of any sort, hunting knives, bushcraft equipment, wildfowling, gun dog equipment, all sorts of optics, including specialized electro-optical devices as mentioned abova, historical collections, professional gunsmiths, engravers demonstrating their amazing work, a busy arena schedule, as well as an abundance of any other shooting accessories you can think of. Plus, countryside organizations, shooting grounds opportunities and one of the best shooting schools are offering their services to the newcomers.
In the Demonstration Arena visitors can also watch the displays held by outdoor and field sporting professionals. 

Exhibitors at British Shooting Show 2020:
Here – in no particular order – are just some of the names that are going to be exhibiting on this year's show: E.J. Churchill, RUAG Ammotec UK (RWS, GECO, Norma, Hausken, Perazzi, DD Optics and many more brands), Leupold,, Schmidt & Bender, Mauser, Viking Arms, Blaser, Winchester/ Browning, Holland & Holland Hull Cartridge, Air Arms, Leica, ShooterKing, Minox, Blade Tech, ZEISS, Swarovski,...
If you are interested in any part of country life and especially hunting, target shooting of any sort, fishing and professional conservation, this is the place for you to visit. You won't be disappointed as there will be plenty to see, touch and talk about.