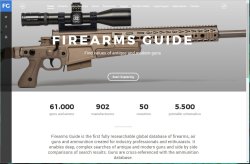 The year 2016 brought many changes upon the Firearms Guide, a work published by the Los Angeles-based Impressum Media company whose first edition was launched on DVD back in 2009.
As the years went by, the Firearms Guide became the most complete and comprehensive encyclopedical resource on civilian and military-grade firearms to be made available to the general public.
The 2016 edition of the Firearms Guide marks a small revolution in that the world-famous encyclopedia is now a fully Web-based resource, although a DVD version is still available on demand.
A subscription-based service − offered at an extremely affordable price, and with a plethora of available options too chose from − the Firearms Guide is in fact the world's first global database specifically conceived for gun enthusiasts and industry professionals in the field of mainly civilian firearms, although automatic weaponry is covered as well.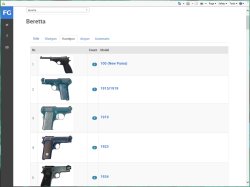 The Firearms Guide covers  firearms, ammunition − linked to a useful US-EU ammo caliber chart and cross-reference of standard metric calibers; a search by manufacturers function; and a section dedicated to schematics and diagrams.

Subscribers will also have access to a broad list of printable targets. Likewise printable are all the pages concerning every single firearm included in the guide: Impressum Media's Firearms Guide currently includes 61.000 entries in its firearms section − handguns, rifles, carbines, airguns, muzzle-loaders and automatic firearms of past or current manufacture − from up to 902 brands and fifty different Countries.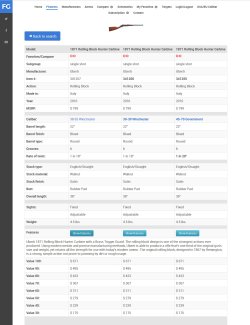 all4shooters.com had access to the Firearms Guide for evaluation, and we have to say, we were positively impressed.

Ease of navigation was the first thing that caught our eye; what Impressum Media states is totally true: the Firearms Guide is more accurate than Google when it comes to search and navigate its contents. The drop-down menu system allows users to restrict their search through the use of fourteen parameters including Country and year of manufacture, gun type, brand, barrel lenght and type, stock, and much more.
Each entry in the Firearms Guide is illustrated with a profile and data sheet including full technical specs, ballistics, and known variants − particularly by caliber.
Each data sheet includes a short description of the firearm in question and even a value esteem by condition, ranging between 30% and 100%.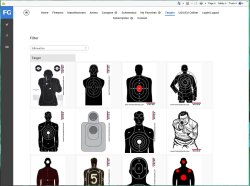 Plus, each data sheet includes from one to twelve zoomable, high-resolution pictures of the firearm itself − with a maximum resolution of 4000x1640 − which are printable but not downloadable, and all watermarked.

The data sheet also feature a specific built-in system that allows side-by-side comparison of guns in any caliber.

The intriguing schematic section of the Firearms Guide offers 5500 printable entries between exploded diagrams and parts lists. The ammunitions section is more similar to a commercial catalogue, and entries are ordered by caliber, manufacturers, commercial name, load, ballistics, and much more.

The Firearms Guide is constantly kept up-to-date with the industry developments: Impressum Media guarantees twenty-six yearly updates, including the addition of new models − modern and antique firearms alike − and the review of the value tables.
In our opinion, a subscription to the Firearms Guide is highly recommended to basically everybody: experts and historians, law enforcement, dealers, and enthusiasts who want to broaden their knowledge. The only thing that international customers should keep in mind is that the Firearms Guide is only available in English.

This video has been hidden because of an external service (YouTube) that could potentially collect personal data.Allow video services for the duration of the visitAllow video servicesStop allowing video services