Sarah is a qualified shotgun coach, holding APSI, CPSA and LANTRA qualifications with a wealth of experience in teaching beginner and experienced shooters aged from 9 to over 90, to improve their shooting skills.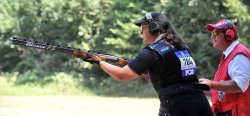 She started working in the shooting industry after a career change. Then after 8 years as a full-time coach at a shooting school, Sarah started GameBirdShooting over 5 years ago. "My aims were to utilise the best of what I had learned, continue to teach and importantly make shooting available to everyone. I have had wonderful support from many local shooting grounds that allow me to use their facilities to teach my clients. A valuable advantage of using a variety of grounds is the extended geographic spread from where I attract clients."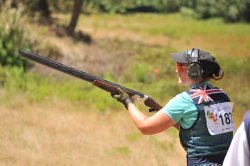 Sarah shot English Skeet, Sportrap, FITASC Compak and settled on FITASC Sporting, "I have trained hard and after a chance meeting, befriended a top coach who was happy to join my adventure. I kept going even when I was not performing well, which required dedication. I also learned about listening to my mind and body and not being too hard on myself."
Sarah uses a 12-gauge over and under Blaser Vantage F3, using Briley Chokes. "I use the best cartridges I can afford; shooting over 12,000 a year gets expensive!"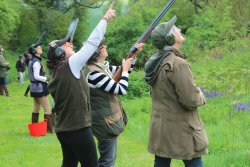 A few of Sarah's shooting landmarks include winning the Ladies English Sporting Open in 2012, Great Britain FITASC team silver (2017) and in 2018, both the England Ladies FITASC Team Gold at the Home International, Scotland and the FITASC Compak at the Dutch Grand Prix. "I was very proud when my coaching was recognised with the award of the coveted CPSA Coach of the Year in 2015."

"I couldn't compete at an international level without the generous support from Blaser Sporting UK, Garland Motors, Aldershot (vehicles), Alchemy Filtration (cartridges), Ed Lyons (optometrists) and Le Chameau."

"I am passionate about being the best, as shooting is a wonderful hobby for everyone. I just want to 'teach the world to shoot." In 2019, Sarah hopes to represent her country again, and has entered many competitions, "with a plan to add to the seven podium places I gained last year; so fingers crossed."

---
Who is our author Linda Mellor?
Linda Mellor is one of Scotland's foremost shooting, fishing and hunting female writers and photographers. She is the product Ambassador for Venator Pro, a premier hunting company and stockist of the European brand Hillman. With a lifetime of countryside experience, Linda's passion, enthusiasm and respect for the outdoors and hunting is explored and shared across her writing and photography. 
For more information on Linda Mellor, please visit Linda Mellor's website, Twitter (LindaMellor) and instagram (linda_mellor).