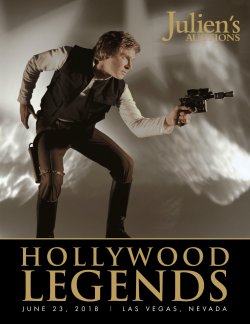 Real sci-fi prices for Star Wars memorabilia. Upon the 35th anniversary of the release of the film, a blaster movie prop used by actor Harrison Ford in the original Star Wars trilogy film Episode VI: Return of the Jedi (Twentieth Century Fox, 1983) sold for the pricey sum of 550,000 USD (some 473,000 euro) at Julien's Auctions' Hollywood Legends auction that was held on Saturday, June 23, in Las Vegas.
The winning bid was made by Ripley's Believe it or Not, the US franchise specialized in unusual items. 
Star Wars props: prices far, far away from estimates
Based on a Mauser C96 Broomhandle with additional parts added on, Han Solo's "BlasTech DL-44 blaster" is an iconic weapon. As explained on Julien's Auction website, four Han Solo blasters were made for and used in Return of the Jedi. The production had used one hero "practical" version and three hero "non-firing" versions. The blaster auctioned in Las Vegas was one of those three hero "non-firing" movie prop weapons and was part of a collection from the film's art director, James L. Schoppe.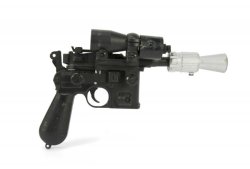 Indeed the blaster – that was offered for the first time at auction – was already estimated to sell between 300,000–500,000 USD. So, the big price was not a surprise altogether.
Other Star Wars prop weapons sold beyond expectations, anyway: an Imperial Scout Troopers' "BlasTech EC-17" blaster went for 90,625 USD (estimate was 20,000-30,000 USD), while an Ewok ax prop weapon sold for 11,250 USD (estimate was 8,000-10,000 USD).