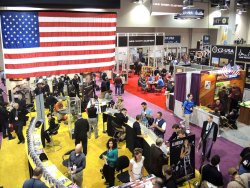 The 2013 edition of the SHOT Show, held last January at the Sands Expo & Convention Center in Las Vegas (Nevada, USA) marked the final chapter in a long history of collaboration between the NSSF - National Shooting Sports Foundation − America's trade association for the firearms, ammunition, hunting and shooting sports industry − and Reed Exhibitions Ltd., a company headquartered in Richmond (Surrey, United Kingdom) and a globally-recognized organizer of conventions, trade shows, and other mass events. Reed Exhibitions and NSSF had partnered for over three decades to organize the SHOT Show − the largest and most comprehensive trade show for all professionals involved with the shooting sports, hunting and law enforcement industries, and the world's premier exposition of combined firearms, ammunition, law enforcement products, cutlery, outdoor apparel, optics, and related products and services. The SHOT Show is owned by NSSF itself, and every year attracts exhibitors and visitors from well over 100 Countries worldwide.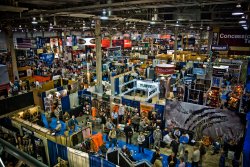 The decades-lasting contract between NSSF and Reed Exhibitions Ltd. was terminated on May 10th, 2013, after Reed Exhibitions decided to ban modern sporting rifles − these being, those civilian-grade, semi-automatic only rifles and carbines aesthetically and technically patterned after service weapons (also incorrectly called "assault rifles" or "military-style rifles") − from being exhibited at another gun trade show organized by the British company: the Eastern Sports & Outdoor Show, held yearly at the Pennsylvania Farm Show Complex & Expo Center in Harrisburg (Pennsylvania, USA). The fact caused a national outcry in the U.S., as Reed Exhibitions was heavily criticized from pro-2nd Amendment groups; the 2013 edition of the Eastern Sports and Outdoor Show, which was slated to be held in the early days of February, was subsequently canceled, and the event itself folded as an institution, to be replaced probably by another NRA-backed event. Even more so, the decision was taken by Reed to ban all modern sporting rifles from its own-organized arms trade shows in the future in the aftermath of the Sandy Hook Elementary School shooting, that took place on December 14, 2012, in the city of Newtown (Connecticut, USA) − the same town where the NSSF is headquartered.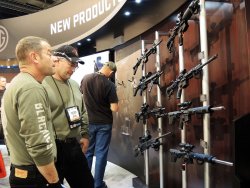 Now, after an extensive search involving the industry's top management companies, NSSF announced that ConvExx was selected ConvExx as its new SHOT Show management partner. Based in Las Vegas, ConvExx is privately held and has produced more than 200 shows and events, working with more than a million exhibitors and attendees; ConvExx produces the annual Specialty Equipment Market Association (SEMA) Show, which at nearly one million net square feet and 135,000 attendees is ranked as the fourth largest trade show in America by Trade Show Executive magazine (SHOT Show is ranked 16th).
«We're excited to have ConvExx on board as our new management partner», declared Chris Dolnack, Senior Vice-President and Chief Marketing Officer for NSSF. «ConvExx offers a unique combination of extensive large-show and Las Vegas experience, which will serve our exhibitors and attendees well».
«We're thrilled to be selected to help the NSSF manage the SHOT Show», added ConvExx chairman Chuck Schwartz. «It is one of the premier trade show events, and we are proud to be associated with the NSSF and the shooting-sports industry».
The next SHOT Show will be held between January 14th and 17th, 2014, at the Sands Expo & Convention Center in Las Vegas.