Very sad news for history and firearms collectors and enthusiasts: Robert Blake Stevens, writer, historian and founder-editor of Collector Grade Publications, passed away last April 22, 2018 aged 80. Established in 1979, Collector Grade is a publishing house specialized in firearms: over the years has published many high-quality books dealing with famous and important firearms ranging from the Maxim Gun to the FAL. Among the most popular titles published by Collector Grade, "Death from Above-The German FG42 Paratroop Rifle", "WAR BABY! The US Caliber .30 Carbine", "The Black Rifle - M16 Retrospective", "he FN49 - The Rifle That Ran Out of Time", "Rock in a Hard Place-The Browning Automatic Rifle" – just to name a few. Each Collector Grade title is profusely illustrated and is presented on quality paper in a deluxe casebound cover with printed endpapers and a laminated coloured dustjacket, with sewn-in pages in every book.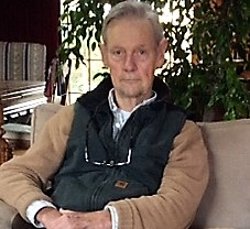 The man behind all this was Blake Stevens, and some of the book mentioned above were written by himself, a real and talented connoisseur. His obituary, written by his family, tells something more about him:
" 'They always will believe a lie Who see with, not through, the eye" In his own words: Robert 'Blake' Stevens was born in Toronto on October 16th, 1938 the eldest of the three children of the late Thomas Herbert Stevens and Beatrice Ena Stevens (née Lake). 
Blake is survived by his loving wife and business partner Susan Fraser, daughter Elizabeth, grandson Elijah, sister Brenda van Lier (Winston), and sister-in-law Gail Stevens, widow of his late brother Clyde. Life never really made much sense for Blake until he was in his thirties, when it all came together during and after his first experience with LSD. Suddenly the world was divided into two groups of people: the few who understand the above edited quote from William Blake (1757-1827), and the many who do not. 
A 10-year career in systems analysis and computer programming no longer holding any appeal, Blake left the corporate world and studied for two years at the New School of Art, all the while maintaining his lifelong passion for music and high-fidelity sound. In 1979 Blake founded the small but now world-renowned company Collector Grade Publications, where for a period of nearly forty years he edited and produced a series of over sixty critically-acclaimed books on modern small arms, twelve of which he wrote or co-authored himself. He felt that this endeavor was well in keeping with the adage attributed to the Buddha, who is purported to have said that one has to learn how to make their living with their left foot if they are ever going to get anywhere with their head. While death is the ultimate demarcation, requiring the end of existence in this beautiful and beguiling world, it may lead to the opportunity for Blake's soul to be reborn into another world of the same order as itself, which would be reward indeed for faithfully enduring the last ordeals in his struggle with cancer."  
Condolences may be made online at www.MacCoubrey.com, and if so wished, a donation in Blake's name to the Princess Margaret Hospital Foundation.