A Smith & Wesson Hand Ejector 1st Model revolver chambered in .44 Smith & Wesson Special has been donated to the British National Army Museum. That would be nothing interesting, if only it wasn't the gun owned by a Colonel TE Lawrence, better known as Lawrence of Arabia. 
The legend of Lawrence of Arabia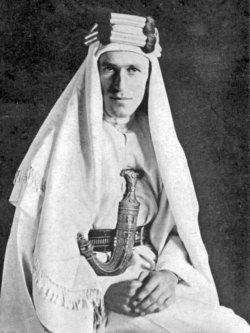 Lawrence was a legend in his own lifetime, and his story was further popularized by the 1962 epic historical drama directed by David Lean, starring Peter O'Toole.
The revolver was taken from a captured Turkish officer by Colonel TE Lawrence and subsequently given by Lawrence to a British officer based at the Red Sea port of Aqaba, Captain Lionel Gray, who – as explained on the National Army Museum website – attached to it a luggage label explaining its provenance. 
The label reads: ".44 S & W [Smith & Wesson] revolver presented to WL Gray by Colonel Lawrence - bearing name in Arabic of Ashraf Bey. The latter and his following with £15,000 Turkish gold were captured by Col Lawrence in 1916."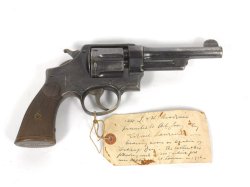 On the reverse of the label the inscription continues: "Ashraf Bey is known to have been responsible for the death of some 2,000 Armenians and this revolver was taken from his person."
Captain Gray's archive has also been donated by the Gray family to the National Army Museum, where it is in the process of being catalogued.
Manufactured between 1908 and 1915, Smith & Wesson Hand Ejector 1st Model – also known as "Triple Lock" for its three-way lock up system – is considered by many the finest revolver ever made. Lawrence's revolver itself features a 5-in barrel and a pretty worn-off finish, as can be expected from such a historical relic.