A factory inscribed Winchester Model 1895 presented by Buffalo Bill Cody to his friend and New York State Senator Fred Kavanaugh and an American flag flown at the D-Day Landing on Gold Beach: these are just two of the highlights of the Rock Island Auction Company  (RIAC) Premiere Firearms Auction that will be held from September 8 to September 10th. 
Founded in 1993, RIAC holds 5 major gun auctions per year, and 3-5 one day online only auctions.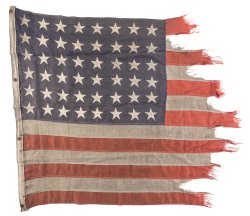 New at Rock Island Auction Company will be the life collection of the acclaimed dealer and collector Vernon J. Berning. His outstanding collection of immaculate condition firearms spans half a century, each one more important than the last and all fresh to market. Another welcome newcomer to RIAC is the Chad Gripp Collection of pre and post-war Smith & Wesson double action revolvers, outstanding in their high condition and rarity, as well as the Jim Thomas Collection of military arms, the Doug Twiddy Collection of Important 19th Century American Arms, and the Collection of Judge Leon Ford III.
The auction will include the second installment of the Landmark Collection of military arms and fully automatic Class III weapons: MG42s, Brens, M60s and many other full-auto models.
The September 8 – 10th Premiere Firearms Auction will play host to a drove of firearms treasures that will surely attract the attention of collectors around the world.
Rare lever guns and classic Colt revolvers
Rare lever guns include an 1873 carbine with a mirror-like full nickel finish, a first Model 1894 with a rare and vibrant case hardened receiver, an outstanding deluxe Model 1873 in .22 short with a factory mounted Winchester A5 scope, and an elaborate, special order, deluxe, factory engraved, and gold inlaid Model 1894 takedown with a seldom seen birdseye maple stock. Not to mention a silver plated Henry rifle in the same serial number range as those given to President Abraham Lincoln and his cabinet. 
With over 400 Winchesters in the sale, all models will be represented handsomely and for every level of collecting.
Classic Colt revolvers, from both the percussion and cartridge eras, are in abundant supply in the September Premiere Auction: over 500 arms from the legendary manufacturer. Leading the way is an exceptional cased set of factory engraved Model 1851 squareback revolvers, followed closely by a Colt Model 1860 Army with silver plated components, factory engraving, and a factory shoulder stock in a mahogany case. Already featured in numerous books, their provenance includes renowned collectors such as John Hegman Jr. and William M. Locke. Punctuated by a D Company Walker, this assemblage of Colts readily appeals to fans of both history and aesthetics.
There will be also rare guns, high art antiques such as numerous beautiful pistol sets, including a remarkable 17th century, Dutch Wender style set of antique ivory stocked flintlock dueling pistols.