The inclement weather did not stop the determination of the many collectors who literally stormed the German auction house's website, showing an almost maniacal interest in some of the pieces on sale. Let's take a look at the lots that registered the highest sale prices or the biggest increases compared to the starting price.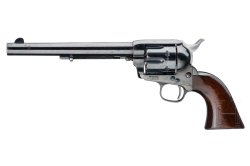 Among the civil firearms, lot 9603 went on to achieve the highest price of the day. Exquisitely Decorated with exquisite hunting motifs, the wheellock took a collector's fancy for 5,250 euros, surpassing its minimum bid of 3,500 euros. Numerous offers had been submitted in advance for lot 9487. 
The Colt Single Action Army revolver from the first production series was in pristine condition. It changed hands for 4,500 euros, eclipsing its reserve of 280 euros. Another gun, this time not from the United States but the former Czechoslovakia, saw an unexpected price increase. 
Offers from 80 euros had been invited for the rare Slavia pistol. Nonetheless, the avalanche of bids only dried up at 1,625 euros.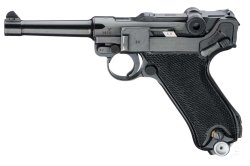 The German firearms up to 1945, in particular service pistols, were represented in the auction catalog by three pieces that reached outstanding prices. With a production of only 500 units, the P08 Mauser-Banner 1940 commercial (lot 9786) is considered an absolute rarity and it was expected that one of these legendary pistols could fetch 1,200 euros. Instead, the hammer price was a whopping 4,000 euros. 

Lot number 9776, a 33/40 carbine designed for the German Army Gebirgsjäger (mountain infantry) in 8x57JS caliber  bearing the code "945 – 1940" was warmly received, reaching a final offer of 3,250 euro against a starting price of 600 euro. A Walther SLd double-barrelled signal flare pistol from the German Navy was acquired for the same sum.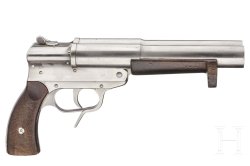 Catalogued as lot number 9811 with a starting price of 1,400 euros, this extremely rare find was part of a limited series of only 4,000 pieces. Lot number 9694, a Sharps New Model 1865 percussion carbine, was the highlight in the International service weapons section. 
This phenomenal piece sold for 3,000 euros, almost nine times its starting price of 350 euros.
The post-auction sale of this online-only auction runs until March 20. During this time, all unsold lots can be purchased for their catalog price, plus a buyer's premium.