Mhairi-Ann's drive and determination make her outstanding Ambassador for shooting sports. As an independent shotgun coach, she thrives on working outdoors, and you'll typically find her working with shooting clients at her local clay ground, the Southdown Gun Club and Shooting School.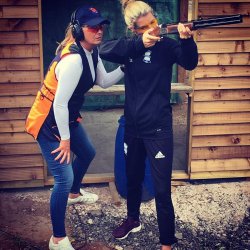 "I always turn up with a smile, and dress smart. I get a huge buzz in working with clients, teaching them, seeing them hitting targets and their faces lighting up! Their wide beaming smiles say it all, and they want to come back for more.
It makes me feel very proud to teach people, especially youngsters, to shoot safely, and to shoot well."

Mhairi-Ann comes from a shooting family, and was knocking down targets with an air rifle with her gran in the woods behind the house when she was only eight years old. She started entering and wining low key air rifle shooting competitions, then her dad introduced her to a 12-bore shotgun. 
Mhairi-Ann continued winning competitions, including Ladies High Gun and this gave her 'a hunger for shooting competitively'. Her brother Scott, taught her to shoot his .243 Mannlicher Pro Varmit.
When she was an Air Hostess, her employer, British Airways, sponsored her. "I was really involved in shooting, so much so, I'd step off a flight then get straight into my shooting gear to go shooting." She continued to win numerous competitions at county level, including triple gold ladies trap.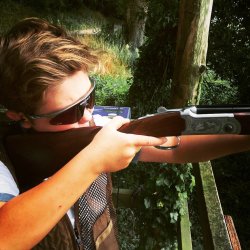 When Mhairi-Ann was 7 months pregnant with her first son, she won the Skeet Ladies Championship, Cheshire. After raising her two boys, Rex age 12, and Hartley age 7, she wanted to put something back into shooting and trained as a CPSA safety officer. After a long spell of being away shooting competitively Mhairi- Ann turned up at the Southeast All Round Championship (Ladies Trap, Sporting, Skeet and ABT) and won. "I didn't feel any pressure, and was relaxed. It was bizarre, targets you'd normally see like dots, I was seeing them as if they were the size of dustbin lids!"
Her two shooting mentors are her dad, and Paul Dancer, former CPSA coach of the year 2013. "Having the right people around you makes all the difference." In September, Mhairi- Ann worked alongside Paul and another coach at the Lea Martson shooting club on a team building day with Birmingham city ladies football team.
Who is our author Linda Mellor?
Linda Mellor is one of Scotland's foremost shooting, fishing and hunting female writers and photographers. She is the product Ambassador for Venator Pro, a premier hunting company and stockist of the European brand Hillman. With a lifetime of countryside experience, Linda's passion, enthusiasm and respect for the outdoors and hunting is explored and shared across her writing and photography. 
For more information on Linda Mellor, please visit Linda Mellor's website, Twitter (LindaMellor) and instagram (linda_mellor).