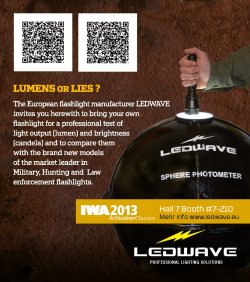 LEDWAVE invites the members of the media to bring their own favorite flashlight at booth #7 - 210 in Hall 7 at the 2013 Edition of the IWA and Outdoor Classics exhibition to be held from 8 to 11 March 2013 in Nuremberg, Germany, and test it.
The test will measure, using a professional photometer, the true output in Lumens (amount of light emitted by the flashlight) and Candela (lux at 1m, which in effect measures the brightness of the tested flashlight).
It is a great chance for the invited members of the media and professional operators the to make a real head-to-head comparison of reviewed products and samples, so please feel free to carry with you competitive flashlights to be measured!
It will also be possible to compare your lights to Ledwave's newest Military, Hunting and Law Enforcement flashlight products.
All measurements will be noted by Ledwave, which will publish the findings online on a later date on its website: www.ledwave.eu
---