Emma Christie, 39, has had a life around guns, and used to shoot for fun when she was a teenager but working life took over. She returned to the sport a couple of years ago, to get her away from the office, and to make new friends.
Her role as Events Manager at Auchterhouse Country Sports is busy, and varied, shooters visit the ground each day to practice on the Skeet, Down the Line, Automatic Ball Trap, Compact and Sporting stands, and the famous Hightower. They also host local, national, and international shooting events, charity and fun shoot days.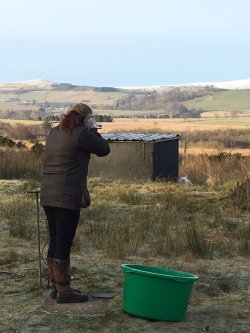 "I took up shooting down the line (DTL) a couple of years ago. Working in the family business can mean it is hard to get out to shoot but I try to get out once or twice a week. As a family, we are all involved, and pull together. Now, I not only work in the shooting business, but it is also my hobby, and one of my goals for this year!" said Emma, laughing.
In 2017, Emma tried to qualify for the team, she said, "I do not think I was ready last year, but it is different this year because I am more focussed, and goal orientated. I want to make the Scottish DTL Ladies team, and shoot the Home International in Wales, all before I turn 40 in September!"

Emma shot game for the first time in October 2017, at the Brewlands Estate, Glenisla. "It was a special day with great friends, all who I shoot DTL with. On the first drive, I shot a pheasant, I was pleased with that! By the end of my first game day, I had shot two ducks, three pheasant & two partridges."
For game, Emma uses her 12 bore Miroku, with Fiocchi F3 Game 30gm, and for clays, a 12 bore Krieghoff K80, using Fiocchi FBlu 24gm 7.5."My second day out game shooting was with the Scottish Ladies Shooting Club at Hallyburton, where I shot 13 pheasants, and the only duck of the day!"
Competitive clay shooting does run in the Christie family, Emma's brother, Drew, won a Commonwealth Games Silver Medal at the Men's Olympic Skeet, in 2014.
Who is our author Linda Mellor?
Linda Mellor is one of Scotland's foremost shooting, fishing and hunting female writers and photographers. She is the product Ambassador for Venator Pro, a premier hunting company and stockist of the European brand Hillman. With a lifetime of countryside experience, Linda's passion, enthusiasm and respect for the outdoors and hunting is explored and shared across her writing and photography. 
For more information on Linda Mellor, please visit Linda Mellor's website, Twitter (LindaMellor) and instagram (linda_mellor).