Andrea is MD of Wordcraft International, a software development company in Derby, England, and in 2013, took over the development, marketing and distribution of a target simulator named DryFire (training simulator for game and clay shooting.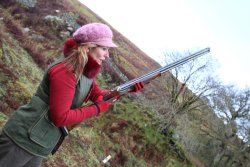 "It was important I understood the sport and got to know the product so what better way than to use it.  It wasn't long before I was totally hooked and booking my first shooting lessons at Lowes Lane Shooting ground in February 2014.  After three lessons I bought my first gun from Countryman of Derby, a Zoli to which I had an adjustable comb fitted as the stock was too low. I started to attend a few ladies shoot days and won my first competition at Sporting targets with the (nationwide volunteer-run ladies shooting club).  I was over the moon!"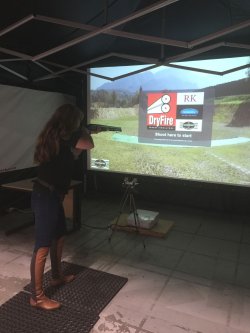 Andrea suffered a setback with her shooting when she had to have surgery for a slap tear injury to her left shoulder. 
After the operation she needed to rebuild the muscle, and DryFire became indispensable for helping to regain her muscle and getting her fit to shoot again. 
"Having the DryFire helped speed up my recovery and it made me look at the product in a different light and saw how it could help many shooters."

"I now have regular coaching sessions with Nick Hendrick, shoot a Caesar Guerini Summit and practise on DryFire.  I continue to support the amazing Femmes Fatales as they have all become a big part of my life and supporting all ladies is incredibly fulfilling and an awful lot of fun."
Personal development is important to Andrea, "I completed the BASC Safe Shot course and have now booked on the Safety Officer course in March and the Shooting Coach training course in April.  I hope to be qualified by the end of 2018."
Andrea's company sponsor the Femmes Fatales Cup every year, she said, "the evening before the Cup I host a Not So Dry Fire Party and we run a simulated clay shooting competition on the DryFire simulator."
Andrea is sponsored by Fiocchi.
Who is our author Linda Mellor?
Linda Mellor is one of Scotland's foremost shooting, fishing and hunting female writers and photographers. She is the product Ambassador for Venator Pro, a premier hunting company and stockist of the European brand Hillman. With a lifetime of countryside experience, Linda's passion, enthusiasm and respect for the outdoors and hunting is explored and shared across her writing and photography. 
For more information on Linda Mellor, please visit Linda Mellor's website, Twitter (LindaMellor) and instagram (linda_mellor).