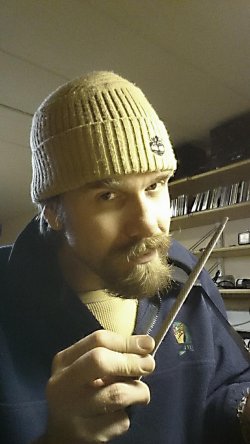 When and how did your knifemaker career begin?
My career began in late 1997 when I started working for my mentor and master, Scott Slobodian, as his sole apprentice in his workshop in the Sierra Nevada mountains between the California and Nevada states in the USA.  
I was then 22 years of age and stayed with him for about 1.5 yrs, working with him on his knives during the daytime and switched over to my own projects in the later afternoon, often continuing late into the night. Work then was slow since I didn't yet possess the skill and experience but nonetheless it was very fulfilling work and I knew early on this was for me, working with my hands, creating knives from raw materials… transforming those materials to the most beautiful/ interesting objects I can, something you never grow tired of…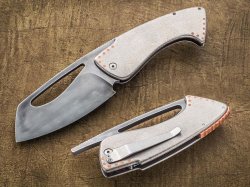 I have a background and schooling in fine cabinet making but this new world of creating a smaller object using 5, 8 or perhaps 10 different and contrasting materials in one piece really captivated me and to this day it still does - Ive been lucky enough to be a full-time knife maker since day 1 and mostly create fixed blades, though folding knives are becoming a greater interest of mine as well, all of my own design and often in a blend of cultures, for example combining the nordic/japanese styles work very well since they are both based in organic shapes, simplicity and raw material that get to have "their own voice"…not overdone with embellishment.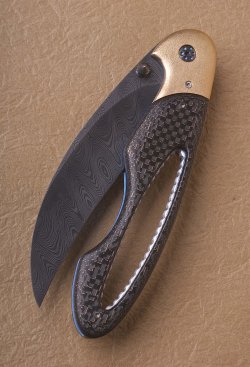 What about your personal life?
I am 40 years of age and I have just very recently moved from Stockholm, where I have resided since I returned from the USA in 2003, down to the smallest county in Sweden, that of Blekinge…also called the garden of Sweden. I have here a large house with plenty of space to house the work shop I need…which is what I am occupied with as I write this- the building and creating of my new workspace, a page has been turned and hopefully a new, rewarding chapter of my life begins.  I have two sons, 9 and 14 years of age and my oldest son is interested in and shows promise as a painter…we shall see if this will ever lead to knife making but you never know with a creative mind- haha!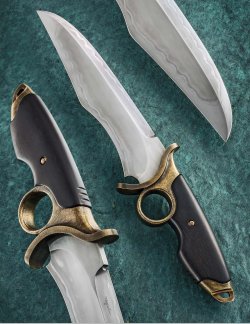 What kind of knives do you make?
I make mostly fighters, daggers, short-knives including a few hunters and utility/EDC pieces but also larger swords.. at the moment I'm working on a large Katana for a client in Saudi Arabia.  Since about two years back I also make folding knives, mostly liner-locks- a great challenge to get them functioning right with the simple tools I have but rewarding work nonetheless!
What materials do you use for blades and handles?
I'm mostly known for my hamon work on 1050 spring steel, something Scott taught me and that I find captivating since not two blades turn out exactly the same. I also forge some damascus from time to time as well as use Damasteel stainless damascus.  I carve all my guards and fittings and cast them (using the lost-wax casting technique) in silver, bronze or copper- all this is done by me and in-house. I even carved the scales for my first version of the KingPin liner lock folder in wax and cast it in bronze…a nerve racking a complicated task as this is a very large casting for the equipment I have- but I succeeded! 
For the handles I use mostly fossil walrus and rare and exotic hardwoods from all over the planet…from Italian Olive to Australian Gidgee woods and lots and lots in between.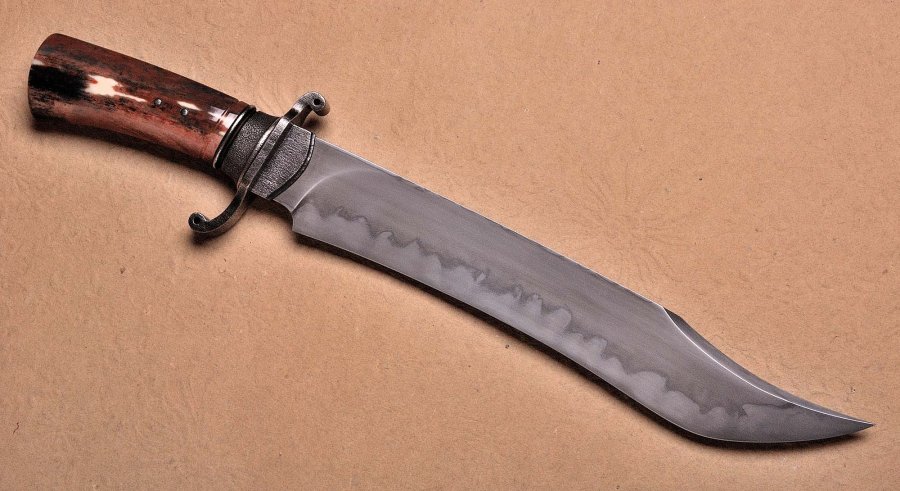 Tell us about the hardware in your smithery...
I am a manual worker and don't have any automated equipment like cnc's, milling machines, lathes or the like…I enjoy and thrive on doing as much as possible by hand and count two Bader grinders, metal and wood cutting bandsaws, a few drill presses as my main work tools along with my high-speed dentist drill which I use for practically everything that needs surfacing or carving.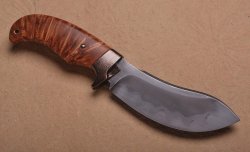 What do you think is the best quality of your works?
I would say my absolute greatest asset is my vivid imagination and ability to combine shapes and lines into something that turns out in beautiful knives with their own look- the main corner stone of my  work.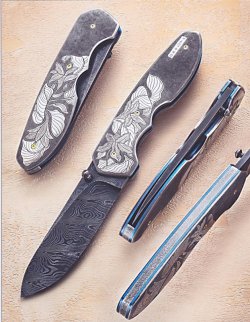 What is the lead time for one of your knives?
I currently have a 6-8 month lead time, perhaps a bit shorter on smaller projects. 
What shows do you attend worldwide?
I regularly attend the Blade Show in the USA and sometimes various shows in Europe but not on a regular basis.

I have had tables at the Helsinki show, the FicX in Paris and at the one in Solingen but the only regular show at this time is the Blade Show in the USA.