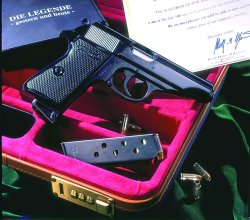 Over a quarter of a million dollars is the price paid by an American collector – who wishes to remain anonymous – for the the Walther PP wielded by Sean Connery in his first Bond movie, Dr. No (1962). The gun was  was sold at an auction last December at Julien's Auctions in Beverly Hills. In the film, "M" (Bernard Lee), the character who provides Bond with weapons and other incredible gadgets, presents the gun as a Walther PPK, but throughout the film Sean Connery actually uses a Walther model PP.
In 1929 Carl Walther introduced the Walther PP – Police Pistol – to the public. Walther mainly manufactured the Walther PP in 7.65 mm (.32 ACP) caliber. It was a gun far ahead of its time in terms of design and ergonomics, and thus the first worldwide success of its designer Fritz Walther.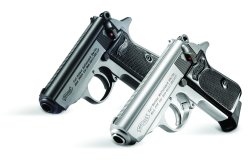 Since its introduction, approximately one million Walther PPs have been produced. However, its "cult" status came with the later version, the Walther PPK – Polizeipistole Kriminal – introduced by Walther in 1931. Since then, over 500,000 pieces have been made.
The Walther PPK is considered the "style icon" of German pistol manufacturing. Due to its unique silhouette and rounded-off design, the Walther PPK is still considered the most beautiful pistol ever built and a must for any firearms collector. Therefore, the demand for Walther PPKs is still high, and the gun is sold in considerable numbers especially in the United States.