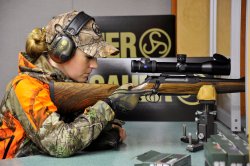 March 5, 2015: One day before the official opening of the IWA to trade operators, visitors and media, the headquarters of RUAG Ammotec in Fürth once again welcomes 40 international Media representatives for the extremely exclusive Third International IWA shooting day event. Each journalist has the chance to personally handle, test fire and evaluate RWS, Norma, Blaser, SAUER, Mauser, ZEISS, and Kahles newest products, taking full advantage of the range facilities, instruments and experienced personnel.
Blaser, SAUER and Mauser brand-new hunting rifles are available for live fire testing at distances all the way up to 500 meters, with the added benefit of using premium RWS and Norma hunting ammunition to try out both the rifles and optics. Zeiss and Kahles showcases its newest optics and riflescopes, while Härkila presents its most significative portion of the 2015 collection of hunting apparel and accessories.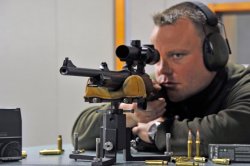 What makes the Third International IWA shooting day event truly stand out as unique in the European hosted shooting and hunting trade shows, is the privilege to live fire and personally evaluate hunting firearms, accessories and optics that are actually still yet to be introduced to the following IWA show, where they will be unveiled to the general public and trade visitors, but only in a static display. Therefore, invited journalists and guests to the event have the rare occasion to have a clear idea of the products real performance, quality and craftsmanship weeks in advance.
The 2015 edition of the International IWA shooting day improved its routine and schedule. Thursday morning at 9:00, guests are welcomed and addressed by RWS management. Then, all journalists are divided into small groups. In a large Tepee tent, RWS, Norma, MAUSER, BLASER, KAHLES, SAUER, ZEISS and HÄRKILA, introduce their newest products.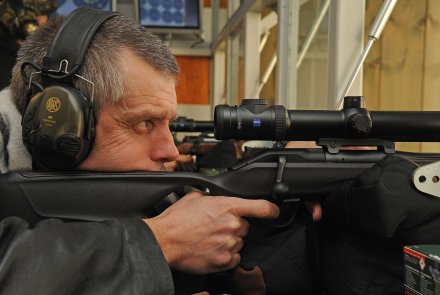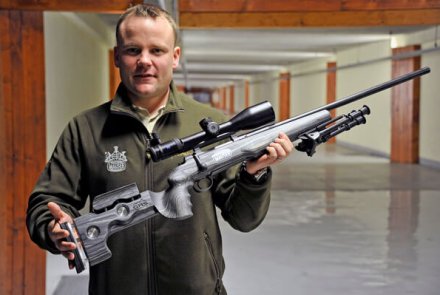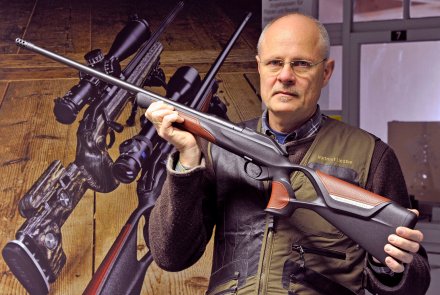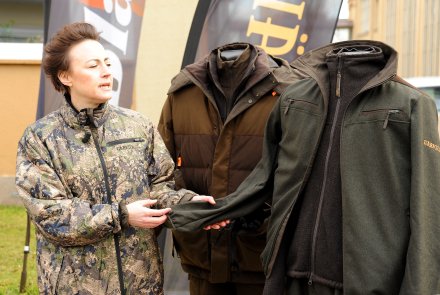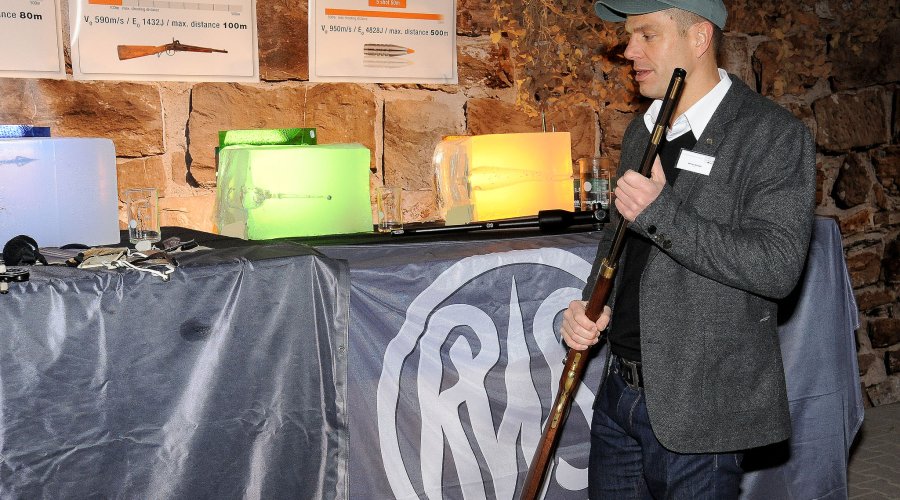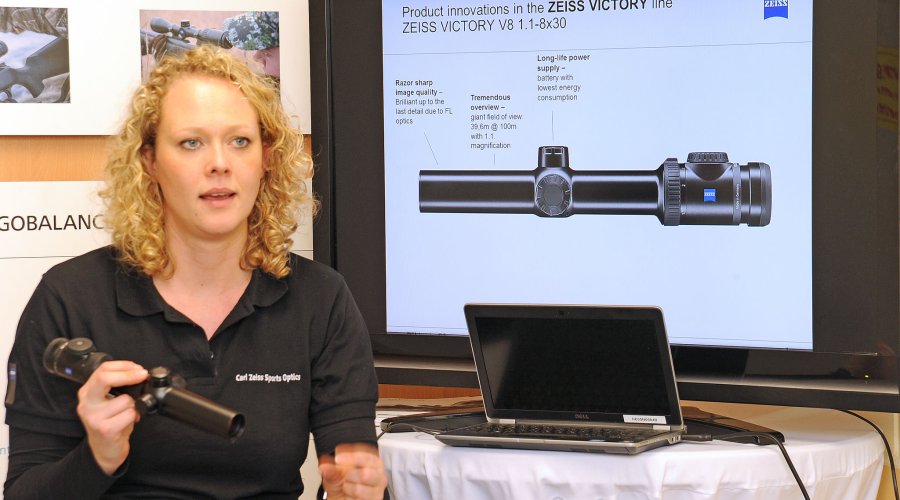 Following a three hour long round of demonstrations, manufacturers' representatives and journalists join to enjoy a lunch break in one of the Teepee tents; a chance to exchange and discuss impressions and opinions. The second round of presentations and demonstrations starts at 13: 00, and the event ends one and a half hour later, at 16:30, concluded by the unavoidable and cheerful group photo of all participants, invited members of the Media, guests and Manufacturers representatives.
What better way to inaugurate the 2015 International IWA show in Nuremberg, than attending the Shooting Day and experiencing this year's product innovations in action?
Without further ado, we would like to introduce our readers to the event highlights. 
The S404, a new hunting bolt action rifle from Sauer
Despite its classic look, Sauer 404 is one of the most innovative bolt action rifles on the market. It features an easily replaceable bolt head that allows to switc from Standard to Magnum calibers in the blink of an eye.
New from Sauer, S404 is an entry level bolt action rifle fit fot hunters that still prefer a more traditional looking gun, wit a reasonable price and a "Made in Germany" proof mark. Wooden stock is usually the first component of the gun to be eliminated in order to lower the retail price but in S404 we have a grade 2 walnut stock with Ergo Lux finish. Receiver is Aviation-grade high-alloy aluminum. Like the S 202, the cold hammer forged barrel attaches to the receiver by means of three clamping bolts. Apart from being easily interchangeable, the S 404 barrel maintains its point of impact after reinsertion.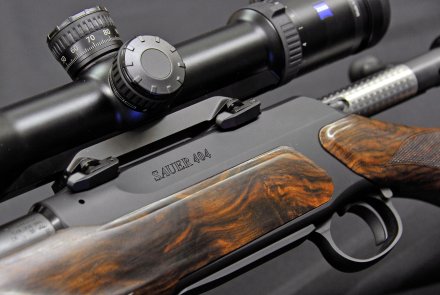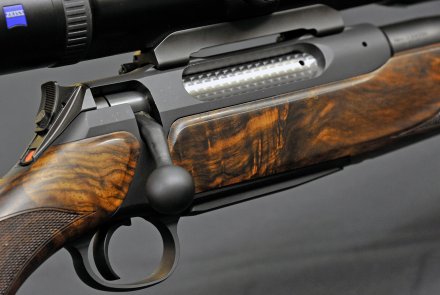 S 404 features a patented safety concept with a new manual cocking system on the bolt shroud that allows the rifle to be cocked and de-cocked both comfortably and silently.
S404 allows the hunter to shoot all available calibers from a single rifle by simply swappping out the bolt head.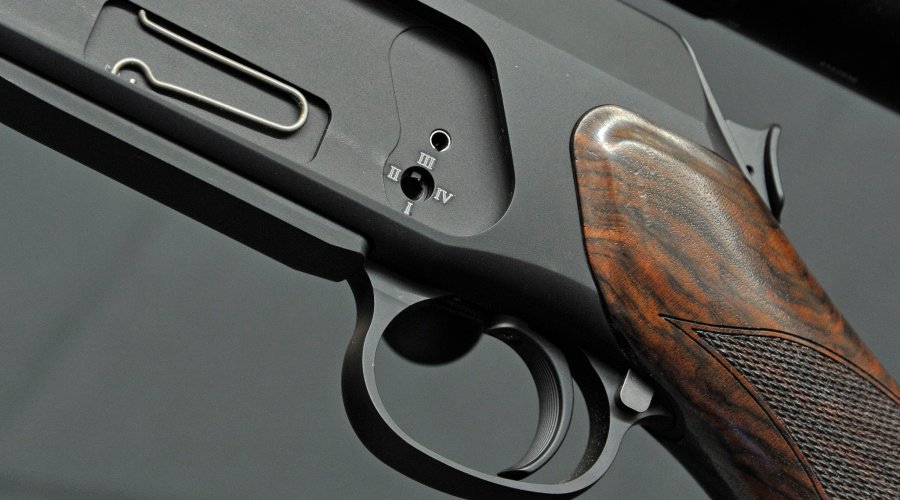 The Sauer Universal Key integrated in the forend sling swivel allows to remove the buttstock in a few second and reduce the size of the S 404 with 51 cm (20 in) barrel to an impressively packable 69 cm (27 in) overall. 

Trigger group is "Sauer Quattro" with a choice of four trigger pull weights: 550 g (1.2 lbs), 750 g (1.7 lbs), 1000 g (2.2 lbs) and 1250 g (2.7 lbs). 
Sauer 404 is available in medium calibers .243 Win., 6,5x55, .270 Win., 7x64, .308 Win., .30-06 Spring., 8x57 IS, 9,3x62 with 51/56 cm barrel and in Magnum calibers: 7 mm Rem. Mag., .300 Win. Mag., 8x68 S, .338 Win. Mag., .375 H&H Magnum with 62 cm barrel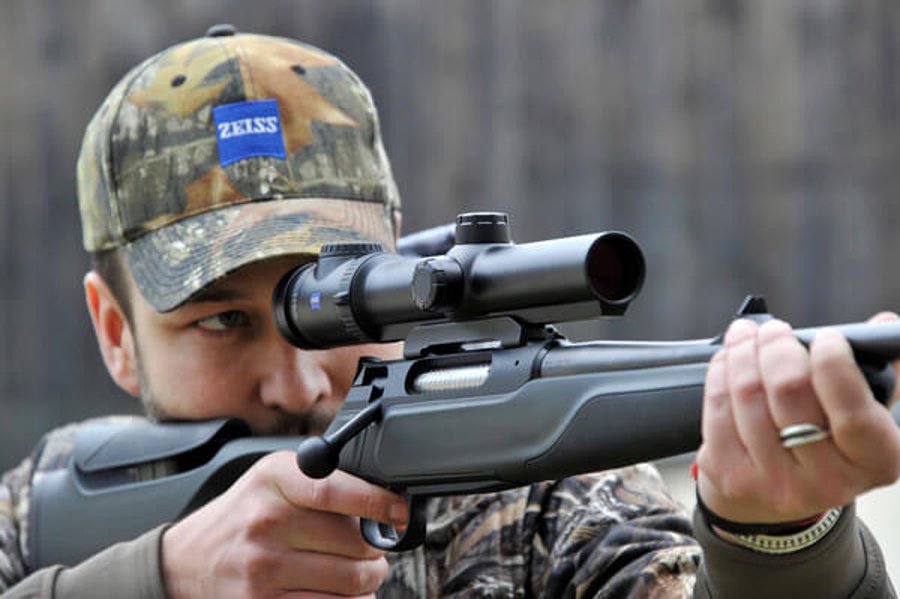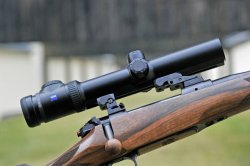 ZEISS adds the to VICTORY V8 family
Zeiss introduces at the Shooting Day, one day before the official launch at IWA, its latest addition to the Victory V8 line of premium riflescope: the 1.1-8x30 variable magnification driven hunt specialist riflescope. Featuring the same, award winning 8x zoom factor of its previous models in the V8 line, the 1.1-8x30 is seen as the most versatile driven hunt riflescope in the entire ZEISS product line.
The 1.1x magnification is ideal for target acquisition with both eyes open; the 8x magnification, on open terrain, not only opens up unheard of possibilities on a driven hunt, it also supports fast and reliable targeting at 8x magnification, offering the same magnification as hunting binoculars.  The objective field of view is unusually large at 39.6 m at 1.1x. Reticle choices are pattern No. 54 and 60, on 2nd image plane.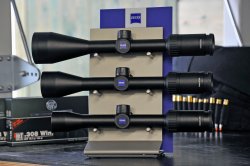 Zeiss introduces to the European market at the Shooting Day and at the IWA the Terra 3x series of riflescopes, originally created for the US market, and now internationally promoted to be the natural completion of the Zeiss line of optics, filling the entry-level niche. Obviously, the main body of the riflescope has a one inch diameter.
The Terra line includes three variable magnification riflescopes, which have been selected for the European market: the 2-7x32mm, the 3-9x42mm and the 4-12x50mm. All Terra 3x series riflescopes have a .25 MOA per click turret adjustment system (equivalent to 0.7 cm per click at 100 m); the only reticle that is available in the Terra line is the traditional Z-Plex.
The 'entry level' positioning of the Terra range of Zeiss optical instruments should not deceive; the optical quality is truly remarkable, it features a sturdy and waterproof construction, an excellent reliability and ease of use.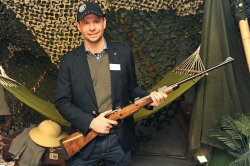 Mauser M98 Magnum rifle
With the introduction of this new Mauser M98 Magnum rifle, Mauser has made a further refinement of the unique 98 action, that was originally developed by Paul Mauser. Based on the original design drawings, Mauser has managed to combine the legendary unique strengths of the 98 action, with the advantages of the most modern production methods. This new rifle has all qualities and characteristics the experienced big game hunter could wish for, and at a remarkably attractive price/performance ratio. M98 Magnum Rifle features a newly designed, ergonomically improved, horizontal 3-position safety, acting directly on the firing pin. Pillar beddings in addition to double recoil lugs mean action and stock are mounted absolutely tension free.
Windage and elevation adjustable two leaf Express sight with cupro nickel inlay for an optimum sight picture. Finely crafted checkering covers the entire forend and pistol grip for even better grip when shooting big calibers. Barrel Length is  62 cm / 24.4", weight is 4,4 Kg / 9.7lbs (4.6Kg / 10.1lbs- heavy barrel profile).
Avilable in .375 H&H with standard barrel profile and in .416 Rigby with either standard or heavy barrel profile.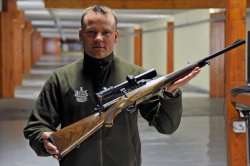 Mauser M 12 High Grade rifle
Also new from Mauser is M 12 High Grade, an high  hend configuration that unites elegant materials with brilliant functionality. This rifle is for the distinguishing customer, who loves classical rifles and appreciates the beauty and harmony of black metal and ebony combined with precious walnut stock.
M 12 High Grade features an elegant class 4 walnut stock and ebony fore-end tip, wooden pistol grip cap and magazine floor-plate with embedded Mauser logo. Another highlight is the large bolt handle ball manufactured in matching stock, making for striking looks and quick repetition all at once. Several optional features supplement this attractive overall package, such as jewelled bolt, short solid barrel, bipod adapter and much more. The new M 12 High Grade is available from April 2015 in all M 12 calibres and barrel contours.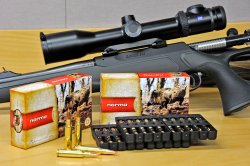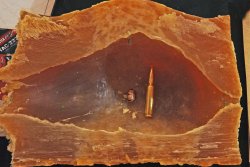 Norma Tipstrike Hunting Ammunition
New from Norma, the Tipstrike is a new hunting bullet conceived for for medium game and offers both a good penetration and a dramatic expansion.
Designed to provide a high knockdown effect combined with a penetration deep enough to reach vital organs even on large size animals. Whan the bullet reaches the game, the polymer tip creates a sort of delay effect, allowing an initial penetration, then after some travel in the animal body, dramatic expansion begins, providing a devastating shock effect.
Bullet jacket is tapered with its rear part reinforced in oprder to gaurantee a consistent weight retention on impact. Norma Tipstrike is available in .308 Winchester, .30-06 Springfield and .300 Winchester Magnum, but more calibers are soon to come.
Tipstrike 30-06  load features a 11,0 g (170 grains) bullet with an initial velocity of 850 m/sec and enegy of 3975 joule. Also introduced at the Shooting Day, the Ecostrike is a lead free copper bullet with Polymer Tip available in a wide array of calibers ranging from 7mm Remington Magnum to 9,3x74R.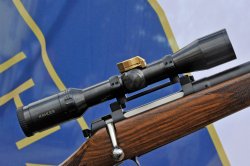 Kahles ballistic drop compensation
There is a high demand for an accurate, easy to use and flexible device to help compensate for ballistic drop in order to ensure accurate long distance shots. All of these important characteristics come together in the innovative and patented Kahles ballistic drop compensation feature, offering best possible accuracy for targeted shots over various distances. 

Kahles developed a new and innovative drop compensation feature with the help of their active customers. It combines precision and simple operation – everything you need at that crucial moment. With Kahles standard ballistic rings, which are available for common calibres, or the Kahles individual ballistic rings, which are tailor¬made to customer requirements, achieving excellent shooting accuracy has never been so easy and straightforward.  With the Kahles ballistic drop com¬pensation feature, the days of having to work out how far above your target you should aim when shooting at long distances are now over.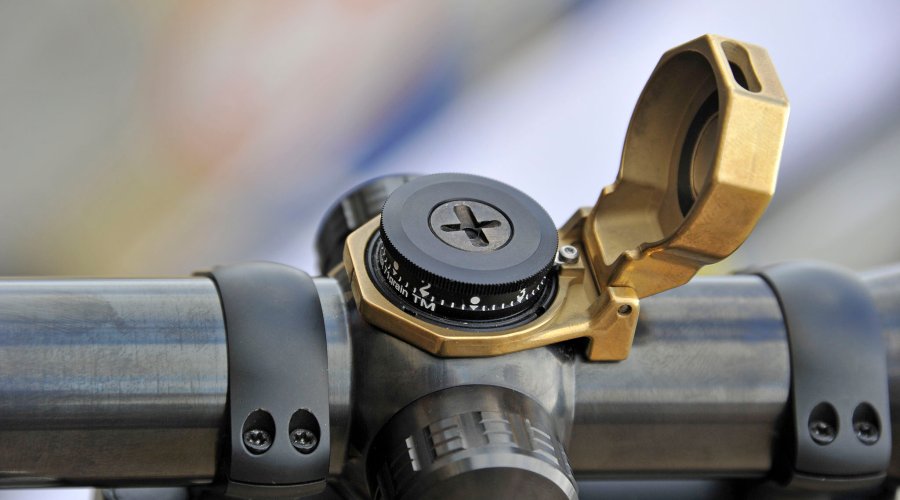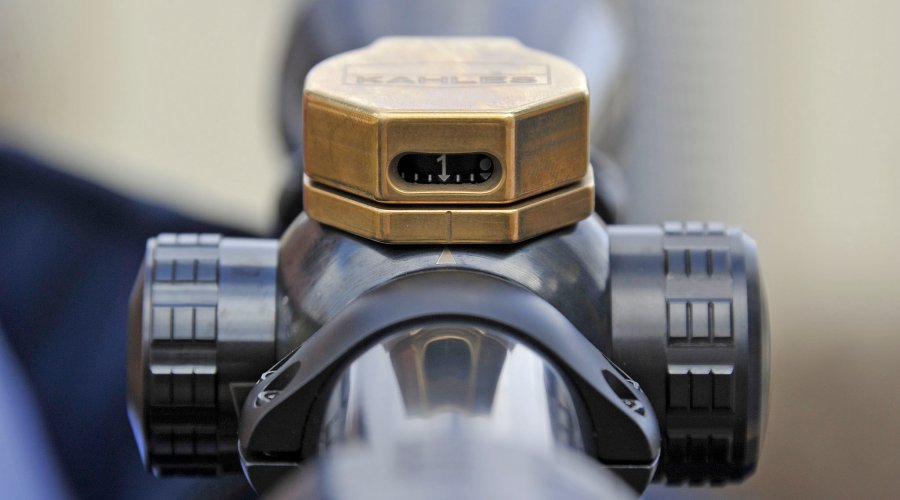 The Kahles ballistic drop compensation device is housed in a fully robust case, available in two different variants: polished brass or black anodised aluminium. It is available as an option on all Helia 5 rifle scope models, and can also be retrofitted and used on older Helia 5 products. 

Kahles ballistic drop compensation device can be accessed easily and quickly by opening the lid of its case, which is secured with a magnetic lock to prevent accidental opening. The click adjustment tool, which is made of specially hardened and tempered light metal, combined with the ballistic scale, enables the required shooting distance to be set extremely quickly and intuitively using the reliably precise Kahles Klick. Once the lid of the case has been closed, the Kahles ballistic drop compensation device is once again optimally protected against accidental adjustment as well as against severe external conditions. 
An opening on the case of the Kahles ballistic drop compensation device, makes it easy to read and check the values that have been set, even when the case is closed.  
The new Kahles ballistic drop compensation feature will be available at specialist retailers from May 2015 onwards. 
---