Slated to be the largest defense and security exhibition ever held in Israel, the 8th edition of the annual ISDEF event will feature the state-of-the-art military, defense and law enforcement products from major international and local manufacturers.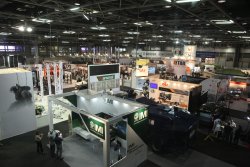 ISDEF Expo - all right reserved
With an expected 250 exhibiting companies and 15,000 visitors from all over the world, ISDEF 2017 will maintain its position as the largest defense and security exhibition in Israel and the only international trade show for the defense and security industry. 48% of exhibitors at ISDEF are international companies and 86% of attendees have buying power.
The exhibition builds and relies on the country's world leadership and reputation in various areas of military technology, security, and defense, due to Israel's unique strategic and political position.
The Israel Defense Exhibition  has catered to the needs of the Military, Law Enforcement, Special Forces, Security Agencies, HLS organizations and Emergency Responders by exposing them to the products and solutions provided by innovative defense and security companies worldwide since 2007.
ISDEF brings the International and Israeli Defense and Homeland Security communities together in a unique event; the exhibition provides an ideal platform for international companies to exhibit their innovations to a selected audience that includes key figures from the security and defense industry, government and military officials from the international community, and a unique opportunity to network on a global level.
We remind our readers that the ISDEF Trade Show is a closed event to the general public, and only credited visitors may attend.
ISDEF Israel Defence Exhibition: from June 6-8, 2017 at the Tel Aviv Convention Center in Tel Aviv, Israel.