It seems that the forced social distancing did not have any negative effect on the sales of the famous British auction house. Let's see which were the most interesting lots sold during the last auction and their respective prices.
Holts auction took place online only, at their Wolferton premises on December 7-8, 2020 – a very successful auction: a totaling of £1,172,135 was bid over the two days, after sales excluded.
Holts December auction: some figures
A total of 797 lots were offered, 81% of which were sold over the two days. Of these, 290 lots sold for more than the estimated price. 58% of the lots were sold to UK buyers, 23% to European buyers and 18% to the rest of the world. Australia, Portugal, Switzerland, France and the United States were the top five overseas buyers.
The most interesting and expensive lots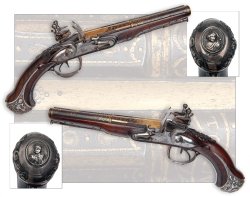 TAmong the highlights of the auction, a pair of double-barreled flintlock pistols manufactured by the Royal Armory of St. Etienne around 1775. The barrels are blued and richly decorated with gilt inlays, the silver mounts chisel engraved in Rococo style. According to tradition, these guns were commissioned as a gift to the King of Sweden by Louis XVI of France. With an estimated price tag of between £10-15,000, they were sold for £11,000 (about 12,200 euros).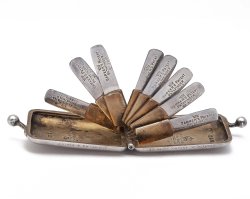 Game counters and place markers are always highly collectible. Lot 1087 was an eight-peg placeholder, an "Expanding Fan Patent" made in silver by Albert Barker in 1905. Estimated at £1500 to £2000, it made £1700 (1880 euros).
One of the most celebrated lots in the auction was a 28 bore "bar in wood" Purdey hammer gun made in 1882. On its own, this "bar in wood" gun wold have created a great deal of interest, but since it was built for Lady Meux – one of the most controversial and scandalous characters of the Victorian era – it only increased its desirability; with a starting price of 3-5 thousand pounds, it sold for the lush sum of £15,500 (about 17,000 euros). Lady Meux, a notorious spendthrift, would surely have approved.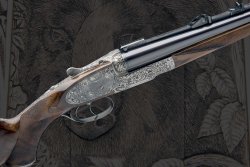 A gun that arrived too late to be included in the catalog, that is a magnificent Holland & Holland double rifle engraved by Philippe Grifnee and chambered in 7x57 mm with a starting price estimated at between £40-50,000, reached the closing price of £52,000 (over 57,000 euros).
Several items from the collection of Keith Neal – a passionate writer and creator of one of the largest firearms collections in Europe – were offered for sale.  Among the many interesting pieces, a beautiful 18 gauge double flint by Joseph Tirebuck, a London gunmaker, dating back to 1815 and in excellent condition, stood out. Estimated at £3,000 to £5,000, it eventually sold for more than double its estimate, i.e. £11,000 (over 12,000 euros).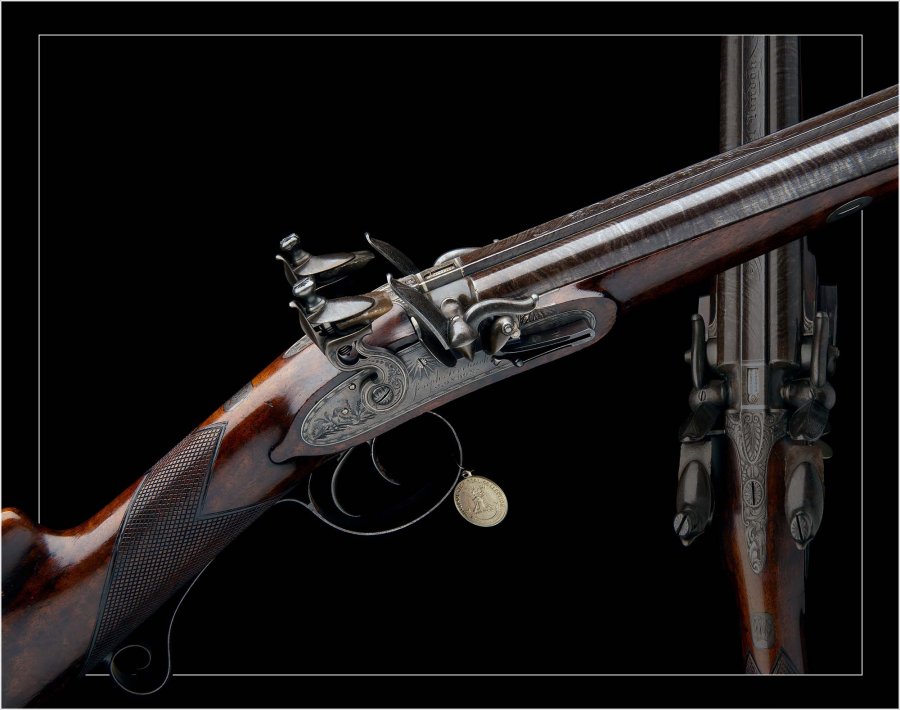 Holts next auction will take place on March 22-23, 2021.