From January 30 to February 3, the first online auction of 2023 organized by Bavarian auction house Hermann Historica took place, attracting bidders with more than 3,500 history-rich lots. This round of sales was also a real success: the ever-increasing number of bidders, the wide range of lots, and the possibility of bidding on up to six different auction portals contributed to the success of the sale. In particular, Hermann Historica's in-house auction platform once again proved very popular with buyers. Consistent bidding took place in all five subject areas of the auction house, and in some cases lots were auctioned multiple times.
"Works of arts and antiquities" auction, from Bronze Age swords to Chinese ceramics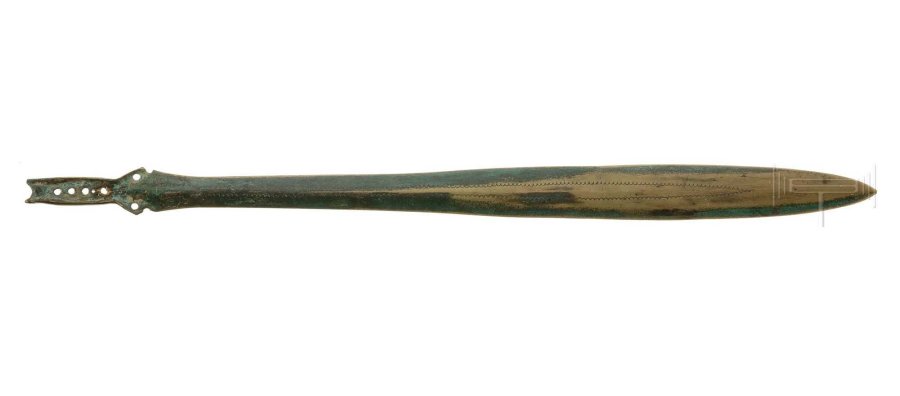 On Monday, January 30, the sale was devoted to the "Works of arts and antiquities" section, which featured true masterpieces of craftsmanship through the ages. More than 900 lots were presented on the first day of the auction. One of the highlights was the much-publicized flange-hilted sword of the Hemigkofen type (lot 6122). The imposing bronze sword belonging to the Hallstatt culture dates back to the 12th or 11th century B.C. This history-rich piece was offered for sale starting at €1,200. But the new owner had to dig deep into his pockets in order to win it: the auctioneer's hammer dropped only after the price had increased sevenfold, to €8,750.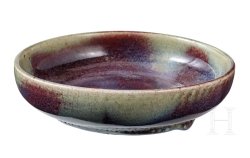 But Hermann Historica does not only sell weapons and armor, and although this item is beyond our scope of interest, we mention it anyway as an example. Among the jewels of Asian craftsmanship, lot 9196 sparked major auction battles: it was a purple-spotted Jun ceramic bowl, probably from the Song or Northern Jin dynasty (12th century). This rare bowl in excellent condition was initially offered for sale at 500 euros, but within seconds the price skyrocketed to four digits. The auctioneer's hammer dropped to the tune of 1,625 euros.
Antique Arms and Armour from all over the world
Antique Arms and Armour from all over the world were auctioned on Tuesday, January 31. With 326 lots, this was the shortest but no less successful auction day, and again buyers were hard at work in front of their screens to win the most interesting pieces.
Lot 7015 attracted great interest even on the eve of the auction. An exquisite example of an Ottoman Shamshir saber, with silver hilt and scabbard fittings, from the reign of Sultan Abdulmejid I (1839-1861) was offered from 4,600 euros. It was sold at a final price of 9,750 euros.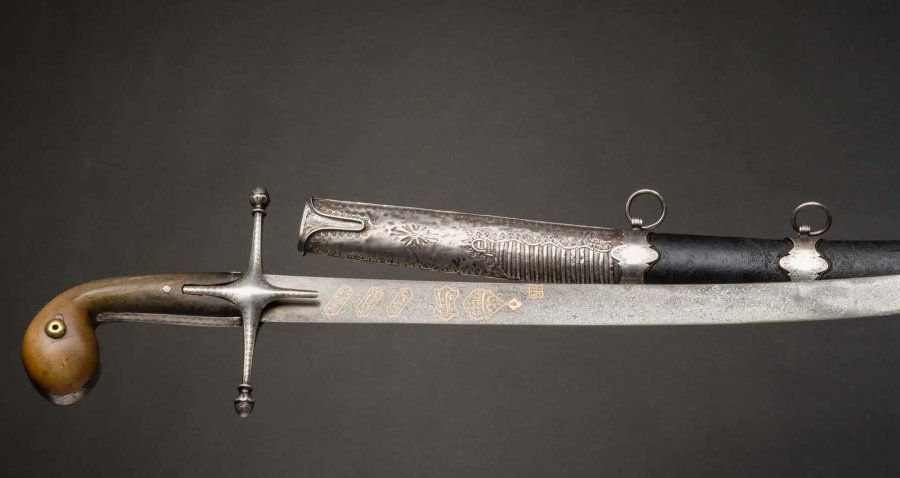 A beautiful Tibetan scimitar (lot 7099) was also a highlight of the auction. Set with precious turquoise, lapis lazuli and coral and the scabbard rings (the scabbard being made from a single piece of horn) with dragon-shaped details made this unique item sell for five times its original price. From starting price of 800 euros, it sold for 4,000 euros.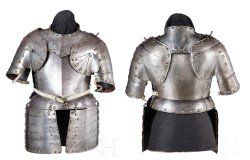 Lot 7201 was an imposing pikeman's suit of armor made between the 16th and 17th centuries, which has been the subject of several written bids. The collar is hinged, the pauldrons are six-part Swiss type, and the breastplate features a slightly pronounced tapul (verticaò ridge). The rivets are gold-plated. The suit of armor more than quadrupled the starting price of €2,500 – the final price was 11,500 euro.
Fine Antique and Modern Firearms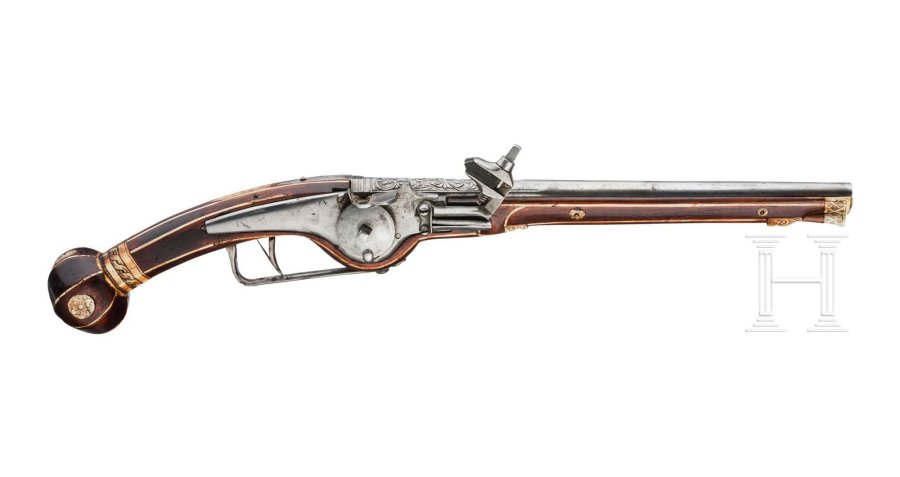 On Wednesday, February 1, more than 600 lots were auctioned as part of the "Fine Antique and Modern Firearms" auction. As usual, bidders gathered in large numbers in front of the auction platforms. Although the wheel-lock pistol with lot number 8067 was "only" a replica item assembled from several antique parts, interest was high. Starting at 1,500 euros, the magnificent gun with a beautiful wooden stock ennobled by bone inlays was auctioned for as much as 4,250 euros.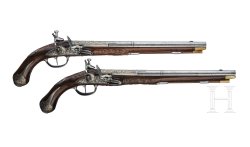 Another highlight was a magnificent pair of Bavarian flintlock pistols dating from around 1780: a starting price of 5,000 euros had been set for lot 8114, consisting of two pistols with iron locks and furniture decorated with rich depictions of ancient warriors on a gold background. This pair of German-made collectibles changed hands for 7,750 euros.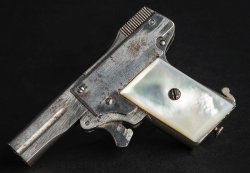 On the same day, with a starting price of 1,000 euros the Munich auction house offered for sale a rare example of the smallest semiautomatic pistol ever made, the Kolibri Model 2 chambered for the Lilliputian 2.7 mm caliber cartridge and with an overall length of 7 centimeters. The pistol with eight-round magazine created by the imagination and skill of Austrian watchmaker Pfannl sold for 3,000 euros.

Orders and military collectibles until 1918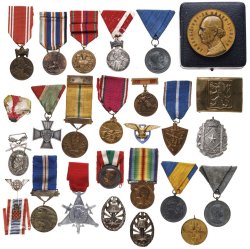 On Thursday, February 2, nearly 600 lots were auctioned as part of the "Orders and military collectibles until 1918" auction. From the start, bidding poured in on the five platforms. Lot 9006, a small collection of European medals, was offered from 200 euros and closed the auction a price 14 times higher. This group of medals from Slovakia, Croatia, and Hungary, among others, was eventually sold for the sum of 2,875 euros.
Two 18th-century Hussars officers' sabers were the highlight of the auction. Both were successfully auctioned. Lot 9142 dates from the revolutionary period of the late 18th century, and its special feature is the blade mark in the shape of lictorian fasces with Jacobin cap. Estimated at 1,900 euros it sold for 2,875 euros. The second saber, elegantly curved and with engraved and partially embossed Rococo decoration (lot 9214), was offered with a starting price of 2,600 euros. This interesting collectible eventually sold for a price of 3,250 euros.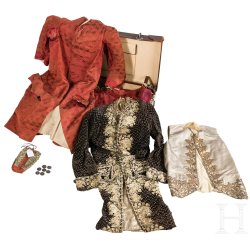 One of the auction's most curious lots was 9303: a small collection of picturesque 18th- to 20th-century period clothing stored in an old leather suitcase, for which 300 euros was the price initially sought. But interest in period clothes, among which was a late 18th-century gentleman's jacket in black velvet embroidered with flowers and two ladies' tops, was huge. In the end, the highest bidder had to invest more than nine times the initial amount, or 2,750 euros, to take home this history-laden suitcase.
Finally, lot 9559 was an amazing collection of photographs belonging to Captain Graf Verri della Bosia (1865-1911), an officer in the Schutztruppe (the German Colonial Army). This part of the vast photographic heritage belonging to Captain Graf Verri della Bosia, was auctioned with a starting price of 1,500 euros that was soon forgotten. The 200 photos mounted on cardboard, mainly taken in China in the early 20th century, came directly from the family estate of Count Verri, who in 1901 was a platoon leader in the 3rd East Asiatic Infantry Regiment. This impressive collection of photographs, mostly depicting scenes of everyday life, was auctioned off for 6,000 euros.
Hermann Historica's in-person and online auction activity has just begun: to find out all the dates and see auction catalogs just log on to their website.