R. Lee Ermey faded away. The American actor and voice actor who achieved fame in the role of the foul-mouthed and merciless Gunnery Sergeant Hartman in Stanley Kubrick's film "Full Metal Jacket" (1987), passed away last Sunday, April 15th 2018, from complications of pneumonia, aged 74. 
The sad announcement was made by Ermey's long-time friend and manager Bill Rogin. "He will be greatly missed by all of us. It is a terrible loss that nobody was prepared for. He has meant so much to so many people. And, it is extremely difficult to truly quantify all of the great things this man has selflessly done for, and on behalf of, our many men and women in uniform" wrote Rogin on R. Lee Ermey's Facebook page.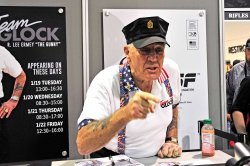 A US-Marine in real life, Ermey had joined the USMC in 1961, at the age of 17, serving for eleven years and becoming a drill instructor. According to legend, he was intended to be only a technical advisor in "Full Metal Jacket", but Kubrick changed his mind after hearing the tapes and reading the dialogues Ermey had produced to "inspire" the actor that should play the drill instructor. Ermey also played other roles in many other movies and TV productions. 
A couple of years ago, during SHOT Show 2016, Gunny playfully accepted even to make a sort of "commercial" for all4shooters.com. You can see it in the video below.
"Gunnery Sergeant Hartman of Full Metal Jacket fame was a hard and principled man. The real R. Lee Ermey was a family man, and a kind and gentle soul. He was generous to everyone around him. And, he especially cared deeply for others in need" that's what his manager Bill Rogin said on Gunny's Twitter account, adding: "We will honor his memory with hope and kindness. Please support your men and women in uniform. That's what he wanted most of all. Semper Fi, Gunny. Godspeed."
---
In 2016 we met R. Lee Ermey at the SHOT Show 2016. Here you have the full all4shooters video with Gunny.

This video has been hidden because of an external service (YouTube) that could potentially collect personal data.Allow video services for the duration of the visitAllow video servicesStop allowing video services