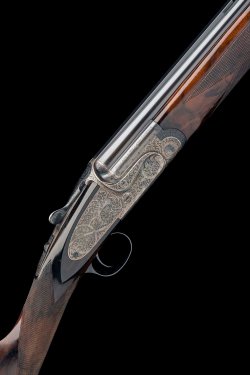 Holts auction held at Holly Hedge House in Blackheath, London, on December 13th recorded another great result with 64% of the 843 lots sold the same day with a total cash inflow of over 700,000 pounds (some 775,000 euro at the current exchange rate). The distribution of the purchasing market showed a significantly higher percentage of buyers from the United Kingdom – 56% (42% in the last sale) – compared to 21% from continental Europe and 14% from the United States.
The highest price was reached by two lots, including the no. 1641 – a 20-gauge Holland & Holland "The Sporting Model" over and under ejector shotgun that was auctioned for £ 28,000 (about 31,000 euro) well above the estimated £ 20,000-25,000. The gun was awarded to a buyer who participated in the auction via the Internet. Lot 1223 also saw a result well above its initial estimate. We are talking about a John Rigby Express sidelock ejector double rifle in caliber .470 that from an initial estimate of 15,000-20,000 pounds registered a final sale price of 28,000 pounds. 
16-gauge shotguns are in demand at the moment and the lot 1320 consisting of a nice pair of Purdey sidelock ejectors shotguns sold for £ 19,000 (about 21,000 euro) from a starting price of £ 14,000-18,000.
Condition is always fundamental in determining a gun value: Lot 525, a double-barreled Thomas Boss percussion gun dating back to 1854 and beautifully preserved, was beaten at £ 3,000, far above the price of similar guns but in worse shape.
Add rarity to condition and the value further increases, as in Lot 620, a 28-gauge Needham needle-fire double gun in its original case that was auctioned at £ 4300 from a £ 3000-£ 5000 starting price.
Winchester lever guns are also in great demand in the United States, and lot 630 saw a rare 1894 model in .32-40 caliber, 1899 dated, closing at £ 3,400 from a starting price of £ 2,500- £ 3000.
The complete list of lots with the sale price can be viewed here: