David, a 21-year-old living in Glasgow, won his gold medal shooting with his Perazzi MX2005 in the men's double trap at the Commonwealth Games, Gold Coast, Australia. It was his debut and Scotland's first-ever individual gold medal in the men's double trap. "It was a surreal moment winning the gold medal, and for a couple of days I never really grasped what I'd done," said David.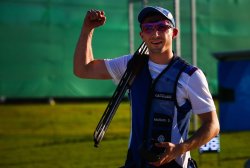 His interest in shooting started in 2011, some of his family went shooting and his dad's friends shot DTL, so he joined them one day at his local clay ground. He shot DTL for 4 years before changing disciplines in 2015 to shoot double trap, David said, "there were more opportunities to shoot, travel and take part in competitions". He qualified for the Gold Coast in December 2017.
In January 2018 he was shooting on average three or four times a week, typically 400 targets per day and felt confident about his shooting performance. "A few years ago I worked with a sports psychologist, he said if you feel prepared in your mind, you feel confident."
David's practice scores were consistently high, and meant he could easily make the finals, "I felt capable and confident about my ability to shoot." On the day of the final at the Commonwealth Games he went into the competition feeling calm, with his concentration on what he had to do and 'focused on getting there'.
Preparation is key, and David has his warm-up routines which include focus, vision, and reaction times, "you should get your heart rate up, it is really important as it helps with your shooting".
David's advice if you are interested in getting involved in competition shooting, "Get involved in Olympic disciplines, there are opportunities available to shoot for your country and they make you technically competent."
David has changed shooting disciplines from double trap to Olympic Skeet, and resumes studying civil engineering at Strathclyde University in September this year. David is looking for sponsorship.
Who is our author Linda Mellor?
Linda Mellor is one of Scotland's foremost shooting, fishing and hunting female writers and photographers. She is the product Ambassador for Venator Pro, a premier hunting company and stockist of the European brand Hillman. With a lifetime of countryside experience, Linda's passion, enthusiasm and respect for the outdoors and hunting is explored and shared across her writing and photography. 
For more information on Linda Mellor, please visit Linda Mellor's website, Twitter (LindaMellor) and instagram (linda_mellor).