With more than 1,500 exhibitors from almost 60 countries and a professional audience from around 130 countries, the IWA OutdoorsClassics 2018 is the place to find the best products for hunting, shooting sports, outdoor activities and for civilian and official security applications. Among the many, many things we saw at the Nuremberg fair some were quite amazing and interesting, others just curious, and some questionable, crazy or plainly dumb. Of course, we won't comment which were what – but here is a short overview. Enjoy it!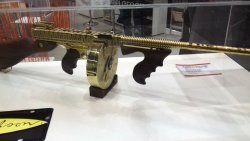 Thanks to gangster movies, the 1920s era Thompson submachine gun - or Tommy Gun for short - is an icon in the firearms world.
Now, Auto Ordnance (Kahr Arms) offers a variant designed for those who do not want to go unnoticed: a .45 caliber Tommy Gun that's not only titanium gold plated (drum magazine included), but with "tiger stripes" too. Although it is obviously not the most conspicuous detail, in case you missed it the barrel is 16.5 inches long.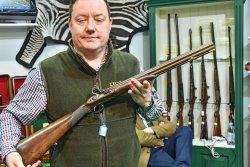 Invented by British engineer James Wilson and named after its manufacturer, Henry Nock, the Nock Gun was a seven-barrelled flintlock smoothbore firearm used by the Royal Navy during the early stages of the Napoleonic Wars. Holt Auctioneers had a couple of these in a civilian version with rifled damascus barrels and engravings. Very rare weapons with a fine hefty price of around 15,000 quids – British pounds, not US dollars.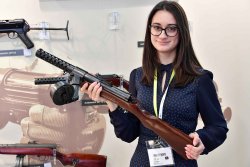 "Automatic" is an Ukrainian company manufacturing fully functional historical weapons replicas as well as some own designs. Among their WW1/WW2 products, a nice series of German submachine guns including the MP38, the MP28, the MP18/IV and the MP18/1 complete with trommel magazine.
All these nice guns are in 9mm Luger. The funny thing is that they are sold by Automatic as "hunting carbines".
Have you ever wondered what you'd need most in your life? They got the answer for you and they put it in a tin. A company named BCB Adventure offers a complete range of small survival tins containing all the items that will come useful in any situation.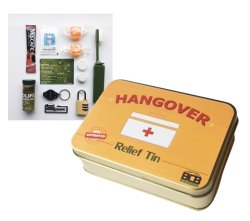 The "Backpacker Essentials Survival Tin", for instance, predictably contains useful things such as an insect repellent stick, a LED Micro Torch,  water purification tablets, a universal can opener, a folding toothbrush, etc.
A little less obvious, the contents of tins such as the "Festival Survival", the "Golf Surviving" and "The Hangover Relief". There is even a "Student Survival Tin": we'll just tell you that among its contents is a condom.

Not for colorblind people
SCCY's CPX Series 9mm & .380 pistols are simple to use and affordable. These internal-hammer handguns are made in the USA and feature a Zytel polymer frame, with ergonomic finger grooves and an integral "RE-COIL CUSHION" on the backstrap.
To meet women's tastes, frames are available in 9 different gaudy colors including red, orange, turquoise, lilac and fuchsia. However appealing, the only question is whether such brightly colored handguns could be mistaken for toy guns, which is not very good in a self-defense scenario.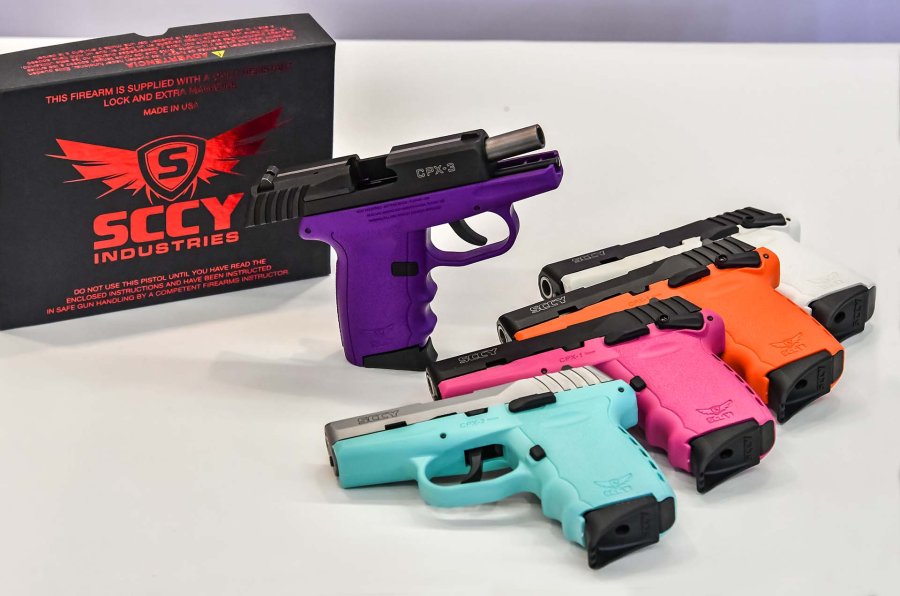 A Webley on steroids
The Webley top-break revolver in various models and calibers served the British Empire and Commonwealth armed forces from the 1880s to the 1960s. Even if during WW2 it was chambered in the weakish .38/200 cartridge, and even if this is a newly made revolver with top finishes and selected wood grips, it still feels strange seeing this was somewhat extravagant, aristocratic and glorious issue handgun "on steroids", chambered in .357 Magnum. 
Last but not least, our favorite. We started this overview with a gold-plated weapon, and we want to end the same way as we started. Unfortunately, it disappeared before we could take a photo of it. But believe us, we really saw it: a certified, real 24k gold-plated AK. Not impressed? Wait: it was an airsoft gun…