What do the great champions of World Sporting Clays have in common? Definitely the passion, the technique, the commitment, the professional figures who accompany them... but above all the firearms.
Beretta shotguns, faithful companions of these professionals, are always present on the podium and the manufacturer guarantees the athletes the utmost professionalism and technical assistance during each high-level event.
In fact, let us recall that this company also provides experienced technicians in World Cup, World and European matches, who are always present in the field and ready to work together with the athletes to achieve maximum results on every occasion. All this has proved incredibly useful and has made the shooters feel assisted and accompanied throughout this sporting year.
Between confirmations and surprises, all eyes are now on the Olympic Games in Paris 2024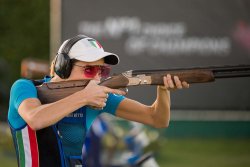 With the ISSF World Shooting Championships in Baku over, Team Beretta is drawing the sums from this shooting season, which as always has thrilled fans with twists and turns and stories that repeat themselves. The goal: Olympic Games in Paris 2024, for which the "Three Arrows" athletes have already secured numerous quota places. The European Games in Poland provided great excitement, with the two golds and two Olympic quotas for Italy won by Jessica Rossi and Mauro De Filippis in the Olympic Pit with the new SL2 shotgun (CDT2017 for Rossi, the aesthetically camouflaged prototype of SL2), the Mixed Team Trap title won by the Jessica Rossi-Giovanni Pellielo pair, the Women's Trap Team gold for Italy (Jessica Rossi with CDT2017, Silvana Stanco with DT11 Black and Giulia Grassia with a 694) and the Men's Trap Team gold for Croatia (Giovanni Cernogoraz with DT11, Anton Glasnovic with DT11 Black and Francesco Ravalico with DT11).
The ISSF World Cups were no less: the one in July in Lonato, Italy, reached the apex for Beretta athletes: 14 medals out of 18. Full podiums in both women's Trap (Laetisha Scanlan - AUS - DT11; Fatima Gálvez - ESP - DT11 Black; Rumeysa Pelin Kaya - TUR - DT10) and men's Skeet (Jesper Hansen - DEN - DT11; Tammaro Cassandro - ITA - DT11 Black; Eetu Kallioinen - FIN - DT11). In Lonato, Britain's Nathan Hales with his DT11 took first place in the men's one-shot Trap final with a 49/50, breaking the world record set on the same course by Alberto Fernandez; second place for China's Qi Ying with DT11 Black (48/50). The women in the Skeet also did well, with the U.S. Samantha Simonton placing second with DT11 and China's Yuting Jiang (DT11) in third place.
Johnny Pellielo starts over from eight (Olympics)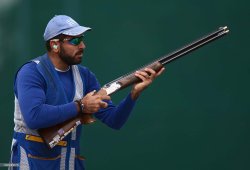 Lars Baron, © 2012 Getty Images
Here we come to the Baku World Championships, the best way to end this season: amazing victory in the men's Skeet by the Greek Efthimios Mitas (DT11) with an outstanding performance and the Olympic quota for Greece, followed by the very young 25-year-old Finnish Eetu Kallioinen (DT11), also securing a quota for Finland. Another Olympic spot was achieved for Denmark by Tokyo silver medalist Jesper Hansen (DT11), who finished fifth after fourth-place U.S. Vincent Hancock (DT11 Black); the American athlete had previously won access to Paris.
Another Olympic place for Greece in the women's skeet with bronze medalist Emmanouela Katzouraki (DT11), and two more quotas for Beretta's Skeet athletes: one for Chile with Francisca Crovetto Chadid and one for Turkey with Sena Can.
Jessica Rossi, Italy's Tokyo flag bearer, with already an Olympic quota in her pocket, takes the silver in women's Trap after a fierce fight for first place. The veterans, on the other hand, smashed the men's Trap final, with Croatia's Giovanni Cernogoraz (DT11) as overall winner and second quota for Italian Trap reached by an amazing Giovanni Pellielo, who ended his competition in the final with a sixth place.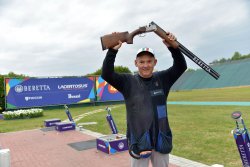 And speaking of the champion from Vercelli, it is confirmed that Giovanni Pellielo will be in Paris for his eighth Olympics, after the 3 silvers (Athens 2004, Beijing 2008, Rio 2016) and bronze (Sydney 2000) already won and the Barcelona (1992), Atlanta (1996) and London (2012) participations. An extraordinary achievement reserved for a select few, the first time for an Italian clay shooter who will go on to equal the record of the clay shooter with the most Olympic participations, Peru's Francisco Boza.
A great season for Beretta: Carlo Ferlito's satisfaction
Fabbrica d'Armi Pietro Beretta General Manager and CEO Carlo Ferlito expressed his enthusiasm for the conclusion of this year of competitions: "A season of great news, both in the sporting and institutional fields: the first full year after Covid and the first with Luciano Rossi as ISSF President. Competitions are always the pinnacle and indicator of the shooting movement, which around the world has shown itself to be in great health and ferment: this, as a company, can only please us given our constant investments to grow this sector. It is good to see that the efforts are paying off. We are very happy with the results of our athletes and the number of Olympic quotas they have secured for their Countries. We express gratitude for the great work of the coaches, for the shooters' commitment, and for the Beretta system that has made it possible to develop top-performing products in both firearm and clothing, accessories, and services. There have been many confirmations, but a special thought goes to Giovanni Pellielo, who at the Baku World Championships managed to achieve yet another Olympic qualification for Italy: congratulations to the FITAV team and coach Marco Conti for the result.  A great satisfaction also comes from those Olympic quotas that were conquered with the new SL2 platform: a shotgun that is proving to be a winner already at its debut, crowning years of research and development within the company. We are not yet in Paris, there is still work to be done: we continue to keep up the focus and support for our athletes with new products and those details, the marginal gains, that make the difference in breaking that one more clay. Alongside the Olympic disciplines, we continue our ongoing support in other shooting sports, both amateur and professional, such as Sporting and Practical Shooting, to accompany our athletes' successes in those disciplines as well."

More medals from the European Championship in Osijek
With the Continental Championship, this 2023 sports season ends. Beretta again wins a shower of medals: 4 golds with Giovanni Cernogoraz (CRO) in Trap, Massimo Fabbrizi (ITA) and Jessica Rossi (ITA) in Trap Mixed Team, Chalkiadakis Charalambos (GRE) in Skeet and Amber Jo Rutter (GBR) in Skeet Mixed Team; 3 silvers with Silvana Stanco (ITA) and Mauro De Filippis (ITA) in Trap, Diana Bacosi (ITA) in Skeet; 5 bronzes with Fatima Galvez (ESP) in Trap, Nathan Hales (GBR) and Lucy Hall (GBR) in Trap Mixed Team, Tammaro Cassandro (ITA) and Amber Jo Rutter (GBR) in Skeet, Diana Bacosi (ITA) and Tammaro Cassandro in Skeet Mixed Team.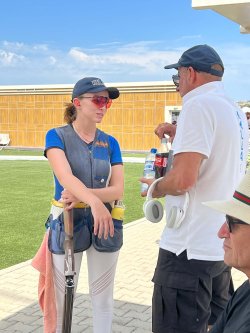 An important testimony from Greece
Emmanouela Katzouraki, the 2001-born Greek clay shooter who won bronze at the World Championships and has been climbing the world rankings over the past year, confirms the importance of using a shotgun from the Brescia-based company and told all4shooters.com's correspondent, "Beretta provides very reliable shotguns, always made with the shooter's needs in mind.
Quality firearms with excellent weight distribution and therefore great balance, which is very important for us shooters.
The company has a long history in arms production that has provided the experience needed to make top-level guns.
I am very proud to represent Beretta and to have achieved great results with their shotgun."
The international shooting season is not yet over by the time you read these notes: there is still room for podiums and medals. Keep following us for all the updates.

---
To learn more please visit the Pietro Beretta Arms Factory website.