The Bass Pro Shops Outdoor World adventure
The 'adventure' actually started in 1972, when founder  Johnny Morris began selling tackle and fishing gear in a small space out of his father's liquor store in Springfield, Missouri. 45 years later, Bass Pro Shops is arguably America's and the world's largest outdoor gear and apparel retailer, with a hundred stores and Tracker Marine Centers in the US.
Locations are present across all of North  America - with five Outdoor World stores in Canada - from Memphis, to Toronto, Orlando, Clarksville, San Antonio and Las Vegas.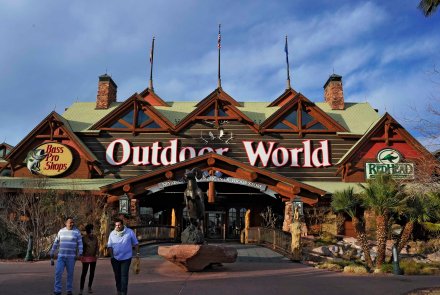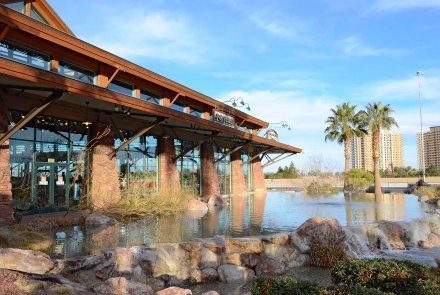 Thanks to an early arrival to our annual visit to the Shot Show for the usual All4shooters.com coverage, we had a spare day to spend visiting Las Vegas - the occasion to visit the local Bass Pro Shops Outdoor World store could not be missed!
A ten minute taxi ride from our hotel on the strip is all that was needed to step in front of the Outdoor World store entrance; after our experience of Vegas' outrageous and incredible architecture, the store's "giant woods cabin" appearance did not seem at all out of place...
To enter the store, a symbolic wooden bridge suspended over an actual miniature pond must be crossed. Then, we find ourselves in a classical hunting lodge, although of immense proportions; the store is just over 165,000 sq ft. and is housed in a sizeable multilevel industrial building. Each store features an overall common style, that varies locally based on the specific characteristics of the indigenous nature.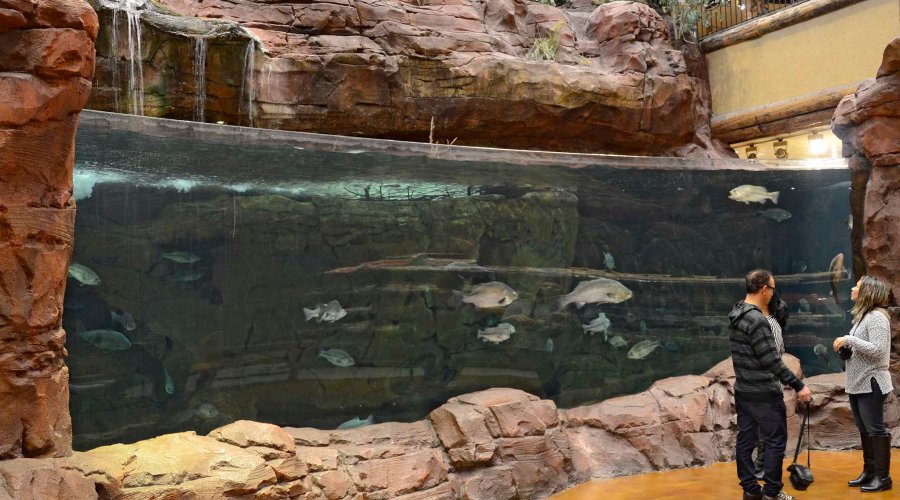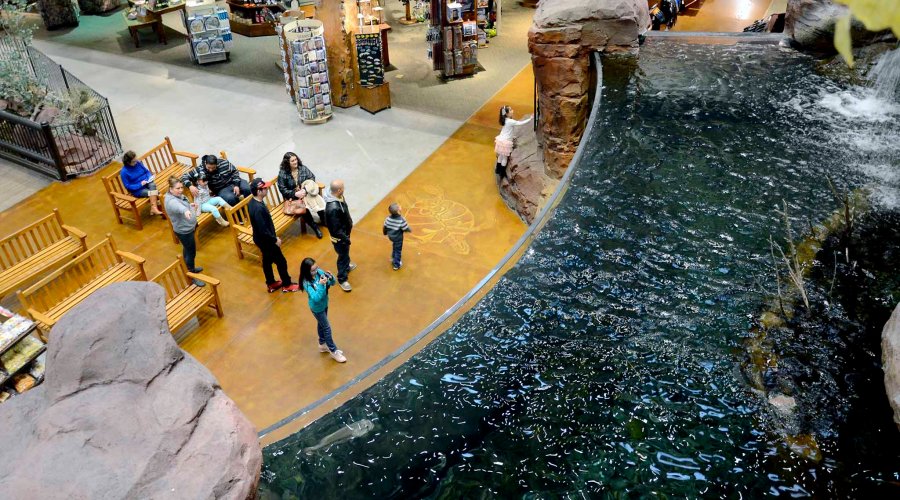 In the case of the Las Vegas store we visited, the prevailing setting is obviously desertic, and the decor includes beautiful dioramas featuring taxidermy mounts native to the local area. Although missing in this store, many Outdoor World stores also feature a restaurant, called "Islamorada Fish Company".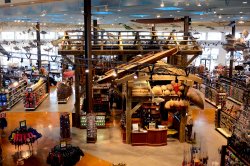 The various departments are incredibly well stocked, and as in any department store, lines and lines of shopping carts are available to visitors.
The Hunting, Sporting and Self-Defense firearms department feature a selection of the best brands and models, and the department's clerks are very courteous, knowledgeable and extremely helpful - on a level we were frankly not used to, especially compared to the average level of a typical gunshop and its clerks in Europe.
This video has been hidden because of an external service (YouTube) that could potentially collect personal data.Allow video services for the duration of the visitAllow video servicesStop allowing video services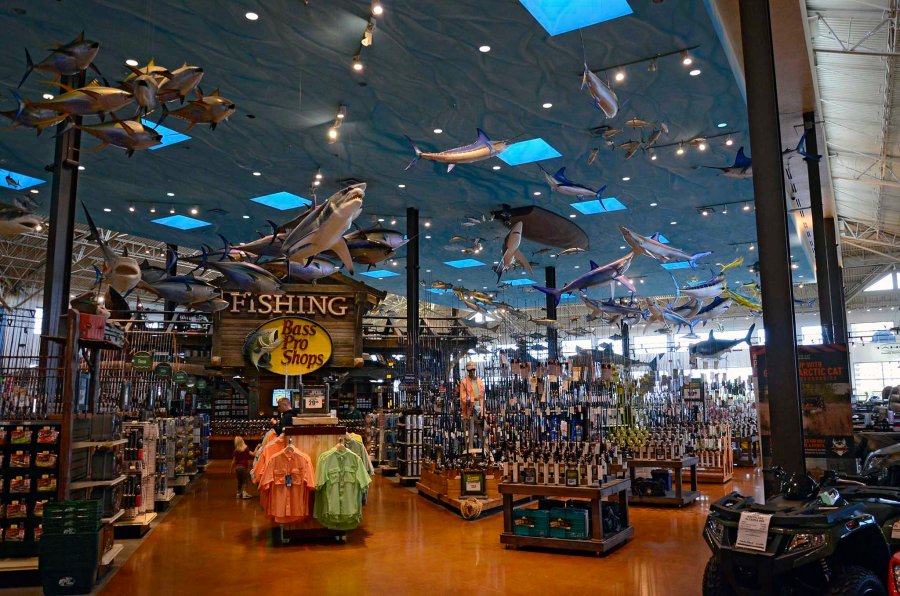 This is exactly the reason why customers become frequent dwellers of the store. We witnessed a father and his young son roam the ammunition and reloading aisles as if they were shelves of a local toy store.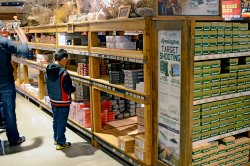 In the Fishing Department, a little girl no more than twelve years old was choosing a fishing rod, expertly weighing the various models in her small hands...

As we found out later, there's also a much deeper social role that the Bass Pro Shops organization pursues: education and conservation. The corporate's website lists a number of seminars, introductory and advanced courses, and workshops covering a range of topics, such as hunting Wild Turkey, to how to assemble the emergency equipment of a fish-ready motor boat, passing by management of local Deer populations of deer, marksmanship, reload, setting camp and proper use of camping gear... all available in house as 'Store Events and Outdoor Skills Workshops' at each Bass Pro Shops' locations.
A pistol, rifle and shotgun indoor firing range is available at the Las Vegas store, in which customers can try a handgun or hunting rifle and also experience shooting for the first time: a certified instructor will, with patience and skill, guide a visitor in his or her first steps with a firearm. Our video operator could not resist the temptation... A water feature is the staple of every Outdoor World store; in our case, a huge aquarium, that showcases live fish species typical of the numerous rivers or streams of the Silver State, complete with waterfalls and dioramas.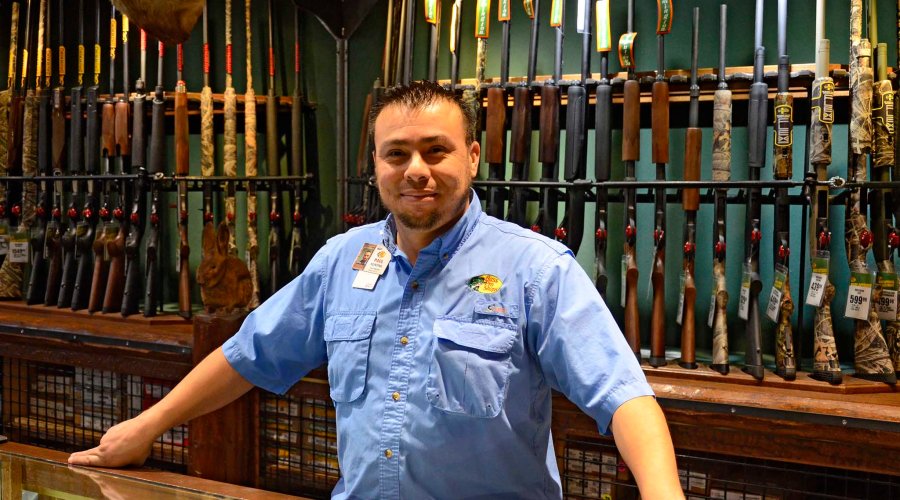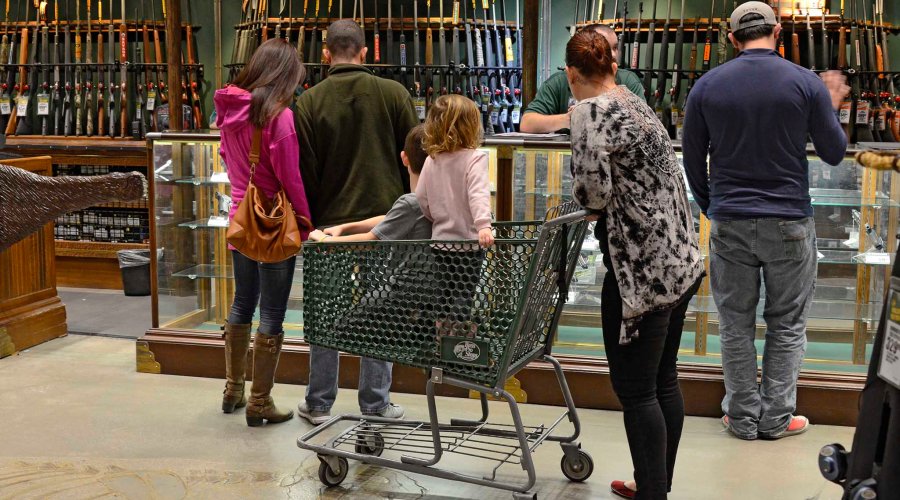 We were welcomed by Vaughn G. Peterson, Las Vegas Bass Pro Shops Outdoor World store General Manager, and Paul Martinez, Hunting Department Manager. Vaughn and Paul walked with us in a tour of the Las Vegas store, which you can admire in the images and video that illustrate this article.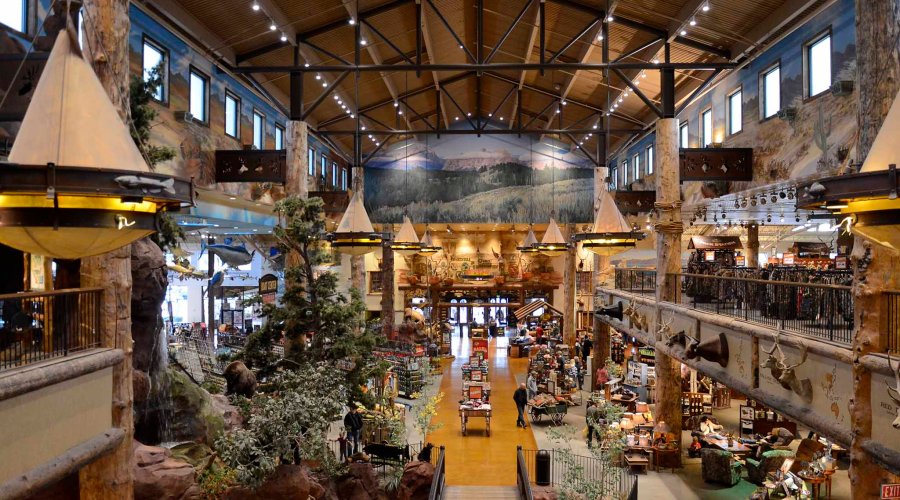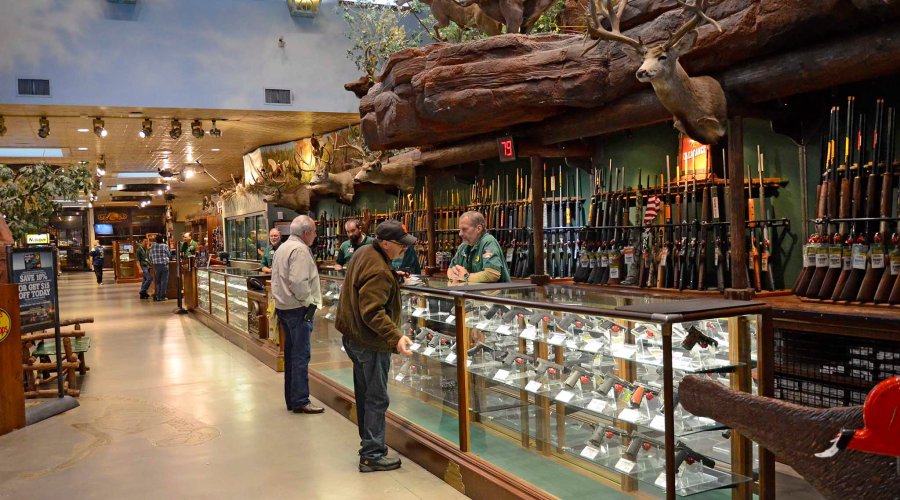 Visiting any one of the flagship Outdoor World stores is a great experience, to be enjoyed fully and without hurry. If, by chance, you find yourself in one of the cities in which a Bass Pro Shops Outdoor World is located, especially if it is in Springfield, Missouri - the first and, together with the Memphis Pyramid store opened in 2015 - the largest Bass Pro Shops store with a size of over 500,000 square feet, do yourself a gift and take a full day off.
The Springfield, Mo. store features a nationwide tourist attraction consisting of a 1.5 -million-gallon National Wildlife Museum and Aquarium with 35,000 mammals, fish, birds and reptiles, the NRA museum of  sporting arms with over 1000 significant gun exhibits dating back to the 17th century, and more!
Recently, Bass pro Shops also announced the acquisition of retail and mail order competitor Cabela's  for 5.5 billion dollars in a merge that, in the words of the press release, "Will enhance ability to serve outdoor enthusiasts, with complementary product offerings and geographic footprints".