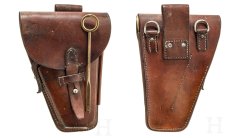 Hermann Historica auction sales continue, and trends in today's collecting also continue to consolidate. Always great is the interest, for example, in Polish Vis Model 35 pistols: after the extraordinary result set by the pistol that sold for a record-breaking 58,000 euros last year, it is now the turn of a holster to reach an interesting sum, in due proportion of course. Specifically, lot 9883 i.e., a leather holster for the Vis 35 pistol with double magazine pouch, original brass cleaning rod, steel flap stud, stitching in good condition. The holster shows slight signs of wear, but is otherwise in excellent condition. The auctioneers dropped the hammer for the tidy sum of 2,000 euros.

We had already presented it to you in our previews, anticipating that it might meet with some interest, and we hit the mark. Lot 9760 was a deactivated example of the Granatbüchse Modell 39 grenade launcher rifle in 7.92x94 caliber issued to the German army in World War II. Obtained by modifying the PZ.B.39 anti-tank rifle, this gun with falling block action used a wooden bullet cartridge to launch a grenade inserted in the cup at great distances. The deactivated example in excellent condition is fitted with the MG34 machine gun bipod. The starting price of 4800 euros was far exceeded, reaching a final price of 7400 euros.

Good results also for lot 9813, which we had reported as very promising: a P38 pistol with a permanent silencer in 9mm Luger made by Spreewerk in Germany and later reassembled and modified in England by Cogswell & Harrison, a conversion specialist. This gun, which bears British police markings, was probably made in no more than ten examples and was part of a batch of P38 pistols with a fixed silencer manufactured after World War II at the request of Saudi Arabia and never delivered. The starting price of this curious piece of history was 2400 euros – the final price was 4000 euros.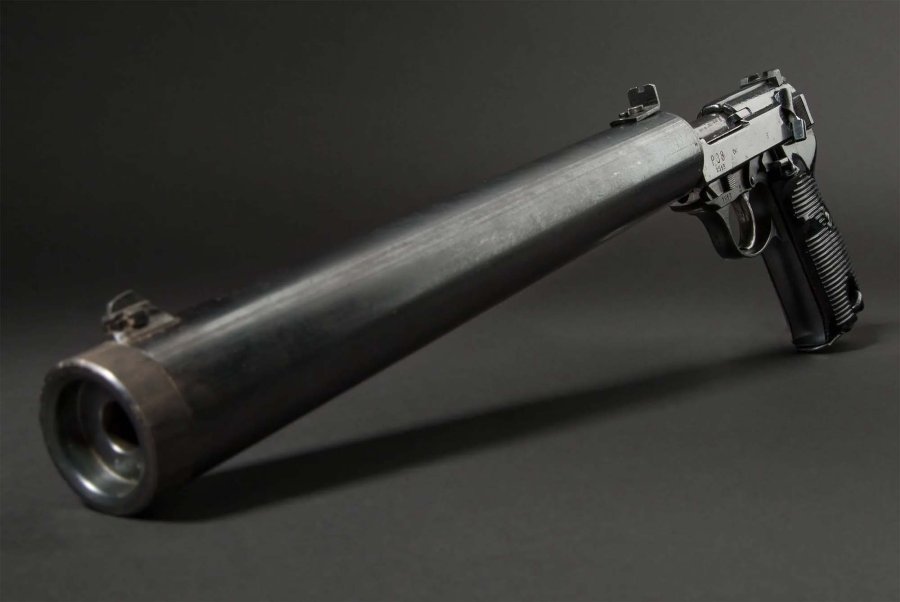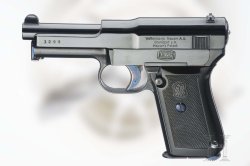 Also interesting was lot 9345, a rather unusual and sought-after version of the Mauser 1914 pistol that reached a sale price of 1600 euros. This is a model referred to as a "humpback" of the 7.65-caliber Browning pistol that Mauser made from 1914 to 1945 in about a million examples. What makes this gun extremely rare, in addition to its excellent condition, is the design of the slide, which we could describe as stepped, found only on the first four thousand examples manufactured. The complex slide was soon discontinued for reasons of cost, and the Mauser 1914s we still encounter in gun shops today are almost all without it. This model perfectly represents what often happens in the collecting world: a seemingly simple variant makes a gun considerably more expensive and sought-after than those of current production.

Among the firearms that remain unsold, but can still be purchased online until July 31, 2022 in the post-auction sale, we find lot 2413, a real oddity that requires a brief explanation: it presents itself as a revolver missing the grip. But what was it used for? Let's jump back in time, to the turn of the 19th-early 20th century. We are in Germany where such revolvers were used in large ship models. At that time the Germans were enthusiastic about their navy, and to entertain the crowds, so-called fleet shows were staged, which took place in docks or artificial lakes surrounded by bleachers that accommodated several thousand spectators. The model warships built for these events were several meters long and spacious enough for a man to lie inside and operate the electric drive and oar. The audience was particularly impressed when the authentic-looking cannons were fired. They were actually special revolvers like this one, with no handle and with the trigger modified so that it could be operated by pulling a wire.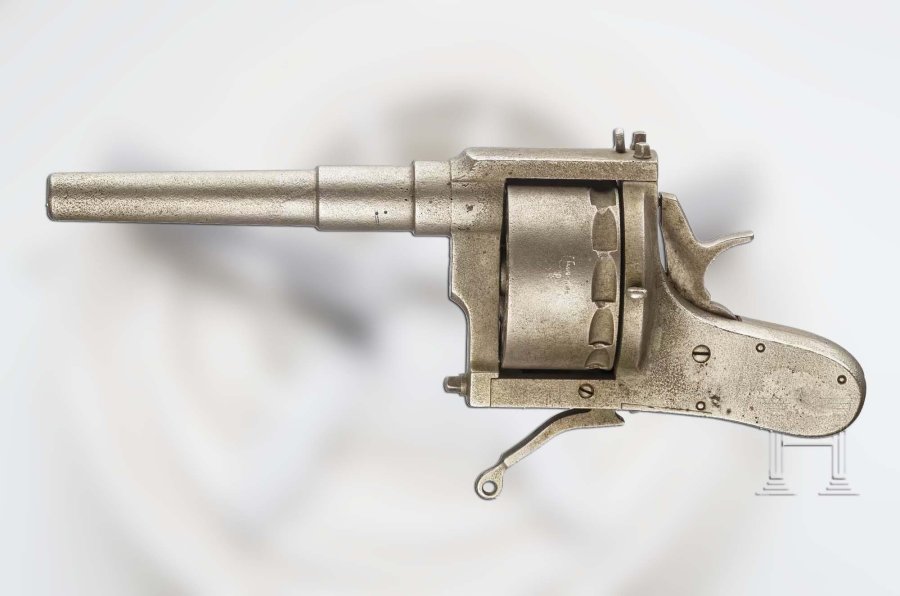 ---
On the outside, the revolver barrel looked like a cannon. These revolvers for stage use were used with blank cartridges only, and the barrel is smoothbore. Rather sparsely manufactured, with many parts made by casting, this curious revolver bears German markings consistent with the late 19th or early 20th century and features a double-action only trigger. The 14 mm caliber cylinder has a capacity of twelve cartridges. Definitely not a piece you see every day.
---
To learn more please visit the Hermann Historica website.