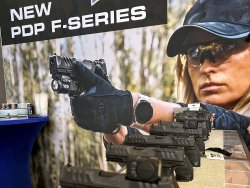 The first thing that Matthias Hainich, CEO of Oberland Arms, did when we arrived was to explain the idea behind such an event: to bring together top-notch companies in one place, attracting an audience of visitors who are experts and genuinely interested in the products on display, unlike attending large trade shows.

After the success of the first edition, which recorded a thousand attendees, 2023 saw an increase in exhibitors although, Hainich assured us, the Oberland Convention will not expand much more than that, focusing on quality rather than large numbers.

Therefore, admission of new exhibitors will only be possible by invitation from Oberland itself.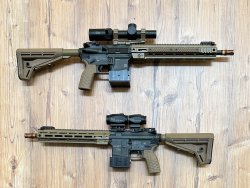 Co-exhibitors at OA Convention 2023: RWS, GECO, Hausken, Glock, Walther, Umarex...
The main pavilion was mainly dedicated to guns and, of course, housed the large Oberland Arms booth, where it was possible to admire not only a wide selection of the Bavarian brand's rifles, but also the growing assortment of proprietary optics, silencers and accessories, as well as some exclusive "OA Custom Shop" branded achievements.

Carl Walther was present with its pistols, in particular with the new PDP F-series dedicated to the female audience; also at the RWS booth, in addition to the new catalog with all new 2023-2024 products from RWS and GECO, there was a large representation of Glock polymer handguns, as well as long-range rifles, Hausken silencers, Nitehog thermal devices and more.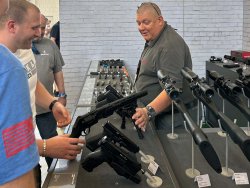 Next door, Umarex displayed its nonlethal airsoft guns, as well as a variety of optics and its expanded and revamped knife range. The precision shooting enthusiasts had plenty to feast their eyes on thanks to the presence of Blackforest Precision and Alpin Precision, both of which specialize in this very special, increasingly relevant field of operation.

There was no shortage of a large selection of everything that gravitates around guns: gear specialists MD Textil and Black Trident; POL-TEC, wholesaler of products for police and military forces; Laco Uhren watches; and shooting training equipment displayed at the 1MOA GmbH booth.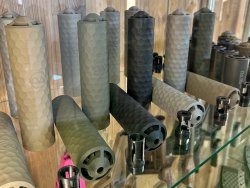 Outside, off-road enthusiasts could feast their eyes on the impressive vehicles set up by specialist Nakatanenga and some of the most interesting vehicles from Mercedes-Benz, represented for the occasion by MedeleSchäfer. Across the street, Steinadler offered a large number of equipment and gear dedicated to shooting and operational use, while Spezial Brandz displayed a selection of Oakley products, including the well-known goggles and highly regarded gloves.

What made the Oberland Arms Convention special, in addition to the quality of the products on display and the helpfulness of the staff at the booths, was the special atmosphere, more akin to a family reunion than a trade show event, to which Black OPS Veterans Coffee and refreshment stations certainly contributed, making the hot days on which the two-day event took place more pleasant. Also present at the event was a representation from the German Army Reserve.