If you believe advertising, we have to follow the social ideal of health, physical fitness and above all eternal youth in order to be able to realize ourselves. We are only too happy to suppress the fact that this is not the case. In the reality of life created by the media, illness or handicap are something that happens to others, but not to ourselves. Thomas Höfs experienced a very similar situation. Until the successful sales representative suffered an accident at work in Denmark in September 2016 – and found something in shooting sports that gave him a zest for life again. But let's take it one step at a time.

A stroke of fate changes life radically

Blows of fate must be digested first. Höfs' life changed radically after the accident, as this father of two children tells: "I fell into a deep hole, I was completely desperate and didn't know what to do with myself anymore." Despair was caused on the one hand by legal disputes with the insurance companies, which refused to pay, and on the other hand by the changes in his everyday life. "I was downright depressed, couldn't sleep at night. I sat on the couch and watched Al Bundy on TV." To keep himself busy, he built little models of ships and became an aquarium keeper. His employer in Hesse still tried to integrate him, but this did not succeed, Höfs should have to move. In his late 40s, that was financially impossible for him: "Without the disability insurance I would have become a welfare case," he says. Such developments are normal. 
After all, such severe strokes of fate represent a break in the previous life course and require a complete reorientation in life. Quite a few people give up in such situations, abandoning themselves to alcohol and drugs, if they do not even take suicide as a supposed way out. And such times also prove to be extremely difficult for the relatives of the people affected. Often the family cohesion breaks down due to such blows within a short time. Added to this are financial problems, which Thomas Höfs also reports: "Our savings were quickly wiped out. You can't imagine the costs involved, but the reconstruction of the stair lift and the bathroom alone cost a fortune. I am happy that my family and employer have also supported me financially during this time."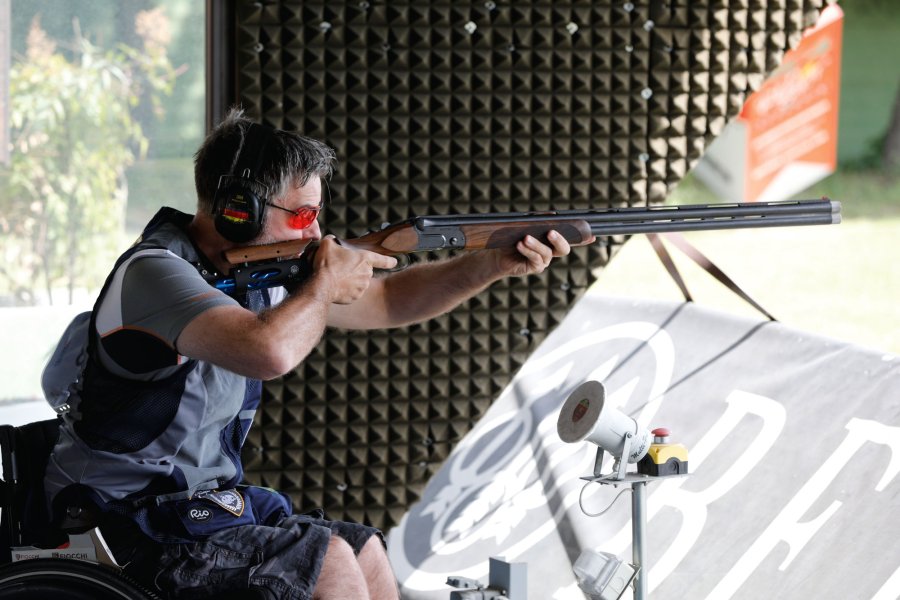 Höfs finds his way to para-trap

But then he finds out about a shooter in a wheelchair through a local newspaper. He makes contact with the man and in a short time manages to advance to the national team via the air rifle discipline. Through discussions with the responsible persons and the national coach, he finally learns about the possibility of shooting trap as a sport. Together with the club he can try out trap shooting. Already after the trial training Höfs is enthusiastic – he has found a sport that really makes him blossom. The "para-trap" becomes his new purpose in life, almost the center of his life, around which he begins to build his second life. The life crisis thus becomes a positive development for Thomas Höfs as a person affected. He manages to get out of the emotional and psychological hole on his own initiative and gains new courage to face life: if you meet the shotgun shooter today, you are surprised how positive and life-affirming he is. His gun control authority also went along without hesitation and granted him permits for his sporting guns. The severe handicap was not an issue here, since it affects his abdomen and does not represent a restriction. The severe impairment of his legs was not even questioned here, his decision was in fact met with respect and goodwill.

Issues in shooting sports accessibility

Thomas Höfs's problem is therefore less the shooting than the widespread displacement in Germany. Disabled people are still an exception in shooting. Correspondingly, there are seldom references to the necessary accessibility from the range operators or clubs: "On Internet portals, references would be really important for me. When I call, I often find out that they have never dealt with the problem until then." He often deals with clubs and shooting ranges, where people are surprised that disabled people want to practice shooting.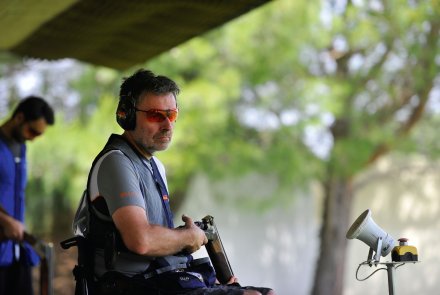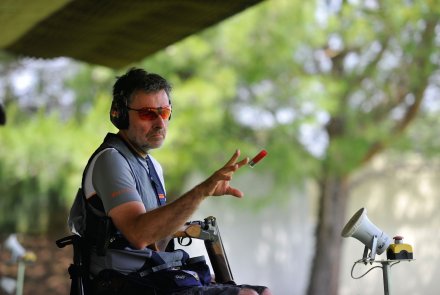 Inclusion: the future in shooting sports
For shooting clubs and gun range operators, experiences such as those of Thomas Höfs are not only extremely important – they will become unavoidable. Because they give valuable insight into the future of shooting sports in Germany and in other countries. In 2010, for example, a study by the Rettungsdienstkooperative in Schleswig-Holstein (RKiSH) warned of the dramatic developments that demographic change will cause. By 2025 alone, the number of people over 75 years of age will increase by up to 55%, with a massive drop in birth rates at the same time. And these figures include age-typical diseases, especially those affecting the muscoloskeletal system. Physically impaired shooters therefore won't remain a marginal phenomenon in shooting for much longer if clubs want to survive and counteract the increasing loss of members, which is largely caused by such developments in diseases and disabilities.
Structural changes also necessary on shooting ranges

This also includes structural changes, as Thomas Höfs reports from his personal experience: "Heavy metal doors to the firing stations are difficult for me as a wheelchair user to handle. If there are steps too and the doors are too narrow for my wheelchair, I can virtually forget about participating in the shooting, it's just not possible. I would like to see more attention paid to barrier-free access for me and other disabled people in the future when renovating the ranges." Hygiene is a very serious problem, which you wouldn't think of at first. "Disabled toilets aren't comfortable for us wheelchair users. We do indeed have special physical challenges when we have to go to the toilet and there are very specific demands that healthy people find difficult to understand." If, for example, stairs lead to the locations in a basement, this is an essential criterion for the selection of a shooting range: "In such cases I cannot participate and I regret it very much."

USA and European neighbours are a good deal further along

His experiences from other European countries and the USA, where the integration of disabled people into the shooting sports is a matter of course, are different. "In the USA you can see that it's completely different. There are often veterans from the numerous combat missions who are engaged as war-disabled individuals and society tries to give something back for their personal sacrifices by meeting their needs." And in Italy, too, such an approach is perfectly normal, as he witnessed in several para-trap competitions. It's important to remember that serious accidents or illnesses can put any sports shooter in this kind of situation and make him/her dependent on a wheelchair virtually overnight. There are many reasons for this, ranging from age-related illnesses and cancer, but also traffic accidents or congenital disabilities. In the life of Thomas Höfs, such experiences have become part of everyday life. But while in Germany people are still in a real Sleeping Beauty sleep, the reality in other European countries looks surprisingly different: "At the para-trap in Italy I saw that many shooters are amputated and still practice their sport without any problems. Yes, even thalidomide victims there shoot with specially modified guns and achieve astonishing results."
Many questions, few answers for shooters with disabilities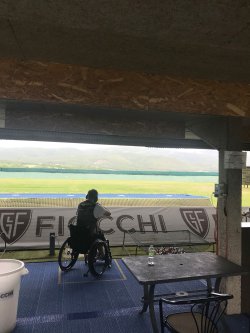 In many countries, hardly any authority deals with the necessary questions concerning such a comprehensive inclusion in shooting sports. "Just because we are disabled does not mean that we have to be excluded," Thomas Höfs points out. However, the society claim to inclusion, derived from the constitutional principle of equal treatment, is still completely new territory even for the associations. Thus Höfs first had to search laboriously for the contact persons for his concerns, who sometimes reacted to his inquiries with astonishment. "My family supports my sport and we also go to competitions together, for example to Italy. I am supported by my doctors and therapists and even do targeted training for my muscles and mobility for my sport. However, while I have met many athletes from abroad via the Internet, I currently feel like an exception. And I would like to change that and thus give hope to other people."

---
Text: Lars Winkelsdorf and Matthias S. Recktenwald