For the German auction house Hermann Historica this year's autumn season ends with the November 4th, 2020 auction with the sale of almost 730 antique and modern firearms. The guns will be on display during the pre-sale, from October 18 to 21 and from October 28 to 31, 2020, at the premises in Grasbrunn, near Munich. The variety of lots guarantees that collectors, museums and other interested buyers will be spoilt for choice.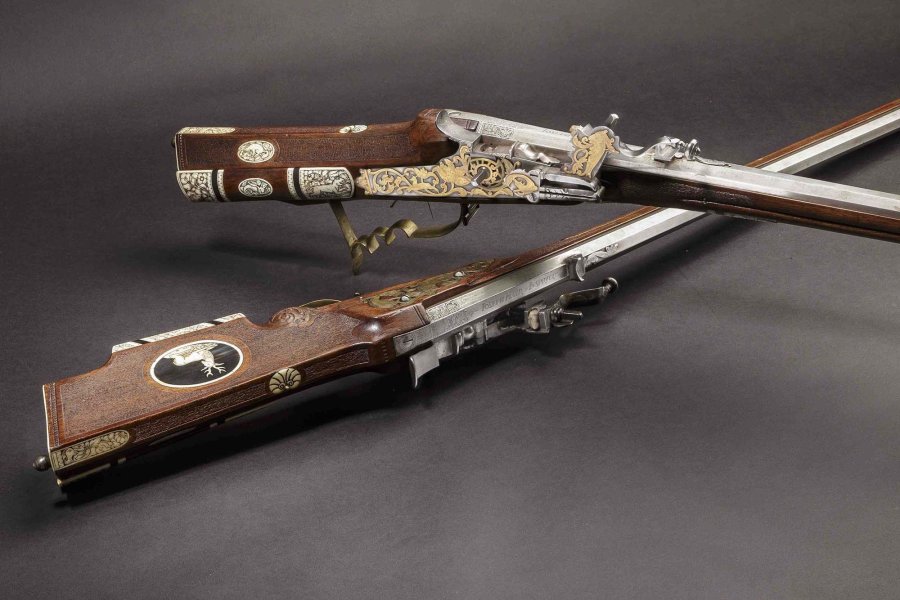 The auction lineup includes representative examples of the art of gunmaking in the early 18th century, such as a pair of 13 mm caliber wheellock rifles with fine bone inlays from Joseph Mair's workshop in Innsbruck, dating back to around 1720/30. In addition to the bone inlays engraved with hunting scenes, the fittings also feature engraved and openworked appliqués. The pair's rarity and exceptional condition justify the starting price of 22,000 euros. Another pair of wheellock guns, two long pistols from Cieszyn, in Poland, are no less decorative with their bone inlays depicting animals, hunting scenes and tendrils. Made in 12.5 mm caliber around the year 1630, they both measure the respectable length of 58.5 centimetres and have a starting price of 20,000 euros.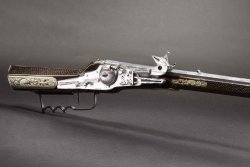 It will take at least 12,000 euros to buy a 9.5 mm caliber wheellock rifle built around 1596 by Balthasar Dressler of Dresden. Dated, bearing the bird mark and the monogram "BD", this gun is also lavishly embellished with engraved and blackened bone inlays. It shows grotesque masks amids tendrils and scrollwork cartouches, with mascarons on the underside of the stock. Lot number 5050 is one of the auction highlights. Dated 1734 and manufactured in Leipzig, an important 21 mm caliber target rifle stands out for the fully sculptured lion's head with inlaid eyes and teeth, on the root of the barrel and the dragon carved in half relief on both sides of the buttstock. The rifle was born with a flintlock mechanism, replaced in 1840 by a percussion lock. Exceptionally decorative, technically brilliant and marked by I.G. Wiegandt, this splendid rifle is open to bids from 20,000 euros.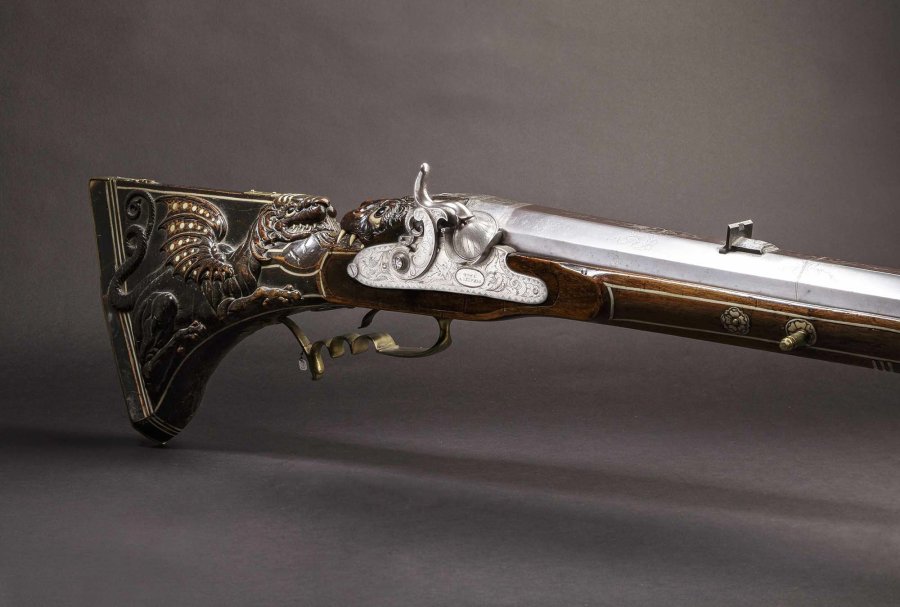 The catalogue of modern firearms offers different emotions. The announced auctioning of a Mauser prototype HSB model semi-automatic pistol in 7.65 mm Browning, with serial no. 5, immediately attracted a lot of attention. Manufactured by Mauser-Werke A.G. Oberndorf, this gun never went into series production. Only very few prototypes of this complicated and extremely rare gun have survived to this day. Therefore, this pistol can be reagrded as an extremely rare collector's item, whose special technical design allows it to command a starting price of 12,500 euros.
Another firearm that until now has only been seen on a few books is the Roth Theodorovic semiautomatic pistol in 6.7 mm caliber with serial number 80, built in the last years of the 19th century, which is believed to be the only existing model. The Viennese pistol with seven-shot magazine and 120 mm barrel will soon take pride of place in a new collection if someone is willing to spend at least 12,000 euros.
Also on sale will be a rare 7.7 mm caliber Bittner model 1893 pistol with serial no. 210. Manufatured in Bohemia, this pistol is extremely rare because it never established itself in the market and failed to achieve commercial success. This sought-after collector's item is up for bid at the starting price of 8500 euros.