Published since 2009 for shooting industry professionals and gun enthusiasts, the new 10th Edition Firearms Guide is out. FirearmsGuide.com is the world's largest researchable guns & ammo reference guide, as well an online source for gun schematics, specs and values: now with its 10th Edition it offers complete 13,000 original printable gun manuals and gun schematics.
"By adding thousands and thousands of printable, original antique and modern gun manuals we are knocking it out of the ball park with the new 10th Edition" says Chris Mijic, publisher of FirearmsGuide.com "Gunsmiths enjoy hi-resolution printable gun schematics and blueprints on FirearmsGuide.com so they will appreciate being able to get and print out original gun manuals for their antique guns. Checking values of those antique guns with Firearms Guide is a huge plus too."
A video about the structure and function of the Firearms Guide:

This video has been hidden because of an external service (YouTube) that could potentially collect personal data.Allow video services for the duration of the visitAllow video servicesStop allowing video services
The Firearms Guide, reference and gun value guides
The Firearms Guide include: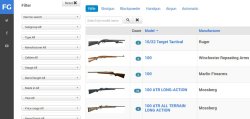 a Reference Guide that presents over 75,000 antique and modern firearms from 1200 manufacturers worldwide;
a Gun Value Guide for professionals in the gun trade and for gun collectors that presents antique and modern guns with gun values online based off of the 100% - 30% condition ratings;
a Gun Schematics, Blueprints & Manuals Library with 13,000 printable hi-res gun schematics, blueprints & manuals for all types of antique and modern guns with parts lists for professional gunsmiths. (You can even zoom in to see smallest gun parts on diagrams or exploded views, read manuals and print out as many as you like.
All guns are cross-referenced with the ammunition database. Guns and ammo are presented with prices, tech-specifications, features, ballistic and up to 12 high-resolution zoom able color pictures (up to 4000 x 1240). As explained on FirearmsGuide.com, "By combining up to 14 search criteria you can perform simple or complex searches that you cannot do with Google and get instant and precise search result every time. For example, if you type in Google "polymer frame pistol in 9mm" your search result is 482,000 web pages. The same search in Firearms Guide will bring up 400 relevant pistols."
One year's online subscription to FirearmsGuide.com costs 29.95 USD (49.95 for two years). Other subscription options (also including a flash drive) are available.