Hunters and sports shooters worldwide know and trust the Winchester Ammunition brand since 140 years and over. A major global supplier, Winchester Ammunition offers one of the broadest lines of commercial and sporting ammunition available on the market today, including some of the best known specialized loads capable of providing the best a shooter might seek from his handgun, rifle, or shotgun. In a constant strive for innovation, Winchester Ammunition launches new products mostly every year, and 2013 makes no exception. At the latest SHOT Show, Winchester introduced a wide array of new loads, most of which are now available in stores.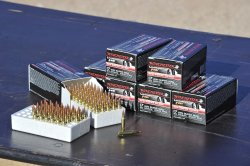 The most important new offering from Winchester Ammunition this year is not just a new load, but an outright new caliber: the .17 Winchester Super Magnum rimfire ammunition is a great innovation aimed directly at becoming a game-changer for varmint and predator hunters: at 3,000 feet per second it's the fastest modern rimfire cartridge on the planet. The .17 Winchester Super Magnum rimfire chambering will initially be offered in three bullet types: a 20-grain plastic tip in the Varmint HV® (High Velocity) line, 25-grain plastic tip in the Varmint HE® (High Energy) line and a 20-grain jacketed hollow point in the legendary Super-X® line. Each .17 Winchester Super Magnum bullet will far surpass the long-range wind drift and bullet-drop limitations of popular rimfire calibers like .22 Winchester Magnum and .17 HMR, while depositing over 150% more energy than both.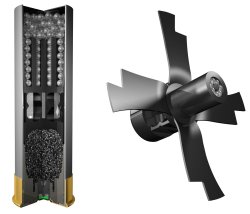 Shotgunners, most notably bird game hunters and skeet/trap shooters, have not been neglected by Winchester this year when it came to new products, as the patented technology embodied by the AA TrAAcker 12-gauge 2.¾" shotshells with #7 or #8 patterns for hunting and competition will help shooters to "see where they've been missing". A fired 12-gauge shotgun shell unleashes a column of shot at about 1,200 feet per second – too fast for the human eye to see the pellets in flight – but now the AA "TrAAcker" shotgun shell makes it possible, thanks to its weighted polymer wad that actually tracks with the shot string. This allows the shooter or an instructor to quickly determine where the shooter is missing – making it easy to adjust and nail flying targets shot after shot. Loaded with 1 1/8 oz. of shot like a standard AA shotshell, the innovative wad design includes longer, notched petals and captures 1/8-ounce of shot, which stabilizes wad spin and ensures that the wad remains in the center of the shot pattern for optimum tracking. The wad tracks a full, one ounce of shot down range for highly effective performance on clay targets and fast flying game. The AA "TrAAcker" wad is available in two highly visible colors: orange, for overcast conditions or dark backdrops, and black for clear skies or light backdrops.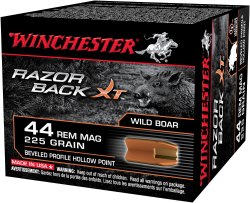 Last, but not least, Winchester expands its Razorback XT line of loads − dedicated to the hunt for the north American wild boar − with a .44 Remington Magnum (a.k.a. ".44-Magnum") chambering for pistol and carbine hunters. The 225-grain .44 Remington Magnum Razorback XT cartridge includes an engineered hollow point desig that will delay expansion, in order to achieve higher penetration and thus deeper wound channels and more effective energy transfer even on extremely tough hogs. The six-position beveled profile delays expansion and strengthens the expanded segments for high weight retention and deep penetration. Traveling at up to 1300 feet-per-second, the Winchester Razorback XT .44 Remington Magnum rounds are excellent for both hunters who practice with scoped, long-barrel revolvers and autoloading pistols − mainly in the United States − and for small-size .44 caliber semi-automatic and lever-action carbines such as the popular Ruger "Deerfield" and 99/44 or the more classic designs produced by Henry, Marlin, Uberti, Chiappa, or Winchester itself. The energy transfer levels, the accuracy and the stopping power of the Winchester Razorback XT .44 Remington Magnum loads are enough to give "full-caliber" rifles a good run for their money when it comes to hog hunting.