Winchester Ammunition, Inc.
In 2012, Winchester Ammunition continues its leadership in innovation with the launch of several key new products for hunters, and also expanding many of the company's most trusted lines with exciting new offerings.

Razorback XT, the world's first line of cartridges designed specifically for wild hog hunting, headlines the 2012 new hunting products from Winchester. Designed to bring down the biggest and toughest boars from the California coast to the swamps of Florida, Razorback XT will be offered in two popular sporting calibers – .223 Remington and .308 Winchester.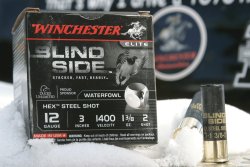 Winchester Ammunition, Inc.
"Razorback XT is creating a buzz because of rising wild hog populations in North America and the growing popularity of hog hunting", said Brett Flaugher, Winchester Ammunition vice president of marketing and sales. "But we didn't stop with Razorback XT – this year we're excited to expand many of our most innovative and proven product lines for hunters."
Blind Side Waterfowl ammunition hit store shelves in 2011 and immediately became the most innovative steel waterfowl load in Winchester history. HEX Shot pellets and the Diamond Cut Wad revolutionized steel waterfowl shotshell technology and in 2012, the Blind Side line expands to include new shot sizes, a 2 3/4-inch shell for 12 gauges and for the first time, a 20-gauge offering.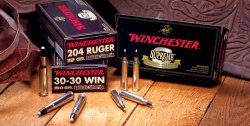 Winchester Ammunition, Inc.
Big game hunters can be on the lookout for expanded offerings in many popular centerfire rifle product lines from Winchester. Power Core 95/5 with its protected hollow point and power-core cavity, is available in several new calibers for hunters who need a lead-free bullet at an economical price point. Winchester also adds two new calibers to Power Max Bonded, a cartridge featuring bonded core technology and specifically for white-tailed deer hunters.
Winchester is also adding .204 Ruger in Ballistic Silvertip Lead-Free, offering varmint hunters a super-fast, lead-free cartridge. Finally, in the classic Super-X line, Winchester is adding a cowboy-action cartridge in .45-70 Government.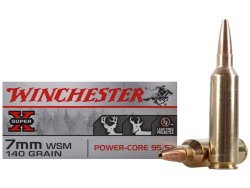 Winchester Ammunition, Inc.
With a company heritage dating back to 1866, Winchester Ammunition was there for the taming of the American West, the Allied Forces' victory in World War II and through the years, millions of fond memories made in the great outdoors. Known as The American Legend™, Winchester is a global leader in sporting, law enforcement, military and personal defense ammunition production. Winchester continues to raise the bar with new products like Blind Side® waterfowl and PDX1® Defender™ personal defense ammunition.