Sierra Bullets, worldwide leader in bulletsmithing for reloaders and in providing high-quality ogives to third parties for both civilian-grade and military-grade precision ammunition products, has introduced three new products this year dedicated to the most unforgiving hunters, long-range shooters, and of course enthusiast reloaders always looking for their own perfect custom load. These three new products come in form of two new calibers for the "Match King" series and one new caliber for the "Game King" line.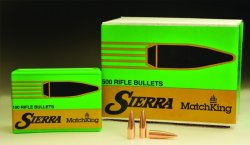 The .30-caliber 125 grain HP "MatchKing" #2121 is an uniquely designed flat based bullet developed in conjunction with AAC (Advanced Armament Corporation) and Remington Arms for the new .300-AAC Blackout cartridge, conceived in turn to obtain the best results on AR15-based platforms, particularly for special applications, when using sound suppressors/moderators, and/or at subsonic speeds. This bullet has also proven to be exceptionally accurate in bolt action rifles and other .30 caliber AR chamberings. The jacket was specifically designed to handle velocities ranging up through common .30 caliber mid-level cartridges. The #2121is available for sale since January 2012, and comes in either 100 or 500-pieces boxes.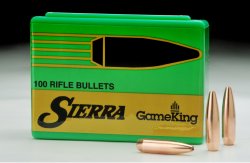 The 6.5mm and 7mm "GameKing" HPBT have instead been developed following pressures and input from customers, and just like their 30 caliber cousin, these bullets will be ideal for midsized game with standard and magnum calibers. The thicker jacket promotes deep penetration while the skives at the meplat provide reliable expansion. The new .264 (6,5mm) 130 grains bullet has a .266 sectional density, and a ballistic coefficient of .355 at 2400 feet-per-second and above, which raises to .375 between 1850 and 2400 FPS and up to .395 at 1850 FPS and below.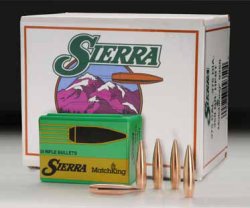 Last, the new Sierra "MatchKing" #9350 .375 ogive stems from a custom long range application project, and represents the largest MatchKing caliber produced by Sierra: an 11-caliber forgiving ogive with 9 degree boat tail that will surely make this new reloading bullet a hit within the big bore long range shooters community. The Sierra "MatchKing" #9350 has a .355 sectional density, and a ballistic coefficient of .805 at 2,200 FPS and above, .700 between 1,700 and 2,000 FPS, and .720 at 1,700 FPS and below, making it perfect for precision reloading.
These bullets are be available in boxes of 500 bullets (stock #9350) with a manufacturer's suggested retail price of $443.72 per box, and trial boxes of 50 bullets (stock #9350T) with a 2012 suggested price tag of $53.24 per box.