Article also available in other languages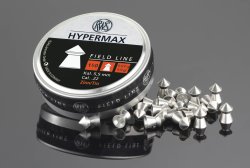 RUAG Ammotec GmbH - RWS Rottweil
The German RWS Rottweil brand, part of the Dynamit Nobel/RUAG Ammotec GmbH group, is not a newbie in the field of airgun pellets; yet its new products launched to complement the well-known RWS "Field Line" might just have set the new standards by which all other products will be judged when speaking of field target, silhouette shooting or even simply leisure plinking: the new RWS "Hypermax" and "Hyperdome" pellets, available in both 4.5mm (.177") and 5.5mm (.22"), give the best in speed, accuracy and effectiveness for all uses, with both low-power and high-power airguns.
The RWS "Hypermax" is a conic, extreme high-velocity pellet featuring a positive speed factor ranging from 25% to 30%, which adds further impact force to what the peculiar shape already delivers.
The RWS "Hyperdome" pellet features the classic "Bulldog" shape, and features an even higher stopping power while maintaining incredible levels of accuracy.
Both the "Hyperdome" and "Hypermax" pellets are made out of a state-of-the-art, absolutely lead-free and environmentally-friendly tin alloy, and feature a shining "High Speed" finish that will ensure an absolutely attrition-free passage within the barrel, avoiding any possible damage.