Article also available in other languages
RWS stands for the Rheinisch-Westfälischen Sprengstoff-Fabriken (Rhenish-Westphalian Explosive Factories), which were acquired in 1931 by Dynamit Nobel. RWS rifle cartridges have reported excellent world wide commercial success since their introduction onto the market and are equally appreciated by hunters as well as sport shooters.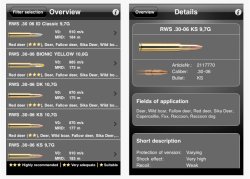 A huge number of Olympic victories have demonstrated the quality of the RWS sport cartridges and many well-known and competent top marksmen rely on them.In order to find the optimum RWS rifle cartridges for your personal calibre, the App offers you the possibility of specifying different search criteria. In addition to bullet type and bullet weight, you can evaluate further characteristics such as preservation of the game's meat, stopping effect, recoil, penetration, exit wound and cutting of hair at point of impact. Once you indicate all your desired criteria, the App then advises you on the most suitable rifle cartridges for your personal hunting situation, including calibre specification, bullet specification as well as the ballistic data. If you shoot using shot cartridges, the App offers you the possibility of choosing the correct cartridges along with information about the calibre, range of fire and the area of application based on selection of the criteria "case material", "lead/lead free" "good scattering properties" as well as "extremely fast". 
Here too, immediately after your input is entered the most suitable shot cartridge for your personal hunting situation is indicated along with a description of the cartridges, structure of the cartridge as well as product details. The App works like a product consultant that stands by the shooter and reliably helps to select the correct cartridge! So nothing gets in the way of a successful hunt! 
The RWS Hunt Ammunition Advisor is presently available in English, German and French; other languages will be released shortly. Compatible with iPhone, iPod touch, and iPad; it requires iOS 4.2 or later.
The RWS Hunt Ammunition Advisor can be downloaded from the App Store HERE