Article also available in other languages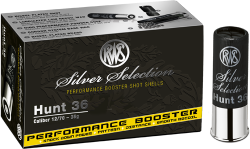 RUAG Ammotec GmbH - RWS Rottweil
The "Silver Selection" line of RWS shotshells, produced and marketed by the German Dynamit Nobel/RUAG Ammotec GmbH group, now features three brand new products whose patented "Performance Booster" is guaranteed to give you the edge in any hunting situation. These three fine new shotshells feature nicked-plated pellets, whose pattern will keep tight even at very high velocity and extreme ranges, while their low-friction shot cup and "Gordon System" shell base will help reducing recoil. A high-performance powder dosing is used to increase the velocity and stopping power. Aside from these shared outstanding features, each one of the three new shells gives the best in a different field.
The RWS Hunt 36 12-gauge 70mm (2.¾") standard shotshells are particularly suitable for a wide range of application for hunting at standard shotgun ranges. From hunting roe deer, fox and badger to hare, rabbit, goose, duck and small winged game, the RWS "Hunt 36" stand out due to their excellent pattern spread at medium range. These shotshells feature a a selected powder load which is due to increase both velocity and stopping power.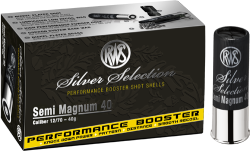 RUAG Ammotec GmbH - RWS Rottweil
Very similar to the "Hunt 36", the RWS Semi-Magnum 40 gives instead the best when longer range is required. These shotshells will retain the pattern spreading and the energy for a longer time and travel, allowing the load to maintain high levels of stopping power even with high-flying or fast-paced small game. Once again, the RWS "Semi-Magnum 40" shotshells are available only in 12-gauge, and only in 70mm/2.¾" diameter.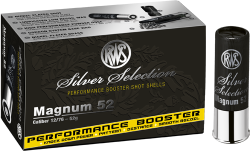 RUAG Ammotec GmbH - RWS Rottweil
Long-range shotgun hunters will instead prefer the RWS Magnum 52 loads, whose features have been enhanced to give the best even at distances ranging well over 50 meters. Well suited for hunting goose, duck as well as wood grouse or black grouse, the RWS "Magnum 52" shells offer extremely good pattern performances and high energy release at long range, with a distinct increase in stopping power. The RWS "Magnum 52" ammunition is available in 12-gauge 76mm (3", a.k.a. "Magnum") loads only.