Article also available in other languages
Every good hunter knows how harder it is to obtain the best from a shotgun, with special regard to accuracy, than from a rifle. Rifled-barrel weapons are, in most cases, equipped with accessories that bolster the shooter's capacities − generally optical sights, whose use on shotguns is not quite as common as it is on rifles − and their philosophy and discipline of use, based on the shooter's capacity to keep calm and remain stable, is quite different from the shotgun's typical discipline, based upon speed and dynamism. It's no wonder that shotgun hunters are between the world's most demanding shooters, and constantly striving for improvement.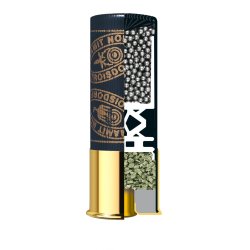 RUAG Ammotec GmbH - RWS Rottweil
The RWS Rottweil brand, part of the German Dynamit Nobel/RUAG Ammotec GmbH group, is a top-notch name when it comes to shotshells. Of course the needs of shotgun shooters and hunters are no strangers to its technicians, and that's why the company launched a brand new line of loads for 2012, in three different calibers − 12-gauge, 16-gauge and 20-gauge − and featuring a wide array of different properties according to the specific purpose they were engineered for, each one of the three new offers giving the best in its peculiar field.
First, the "Weidmansheil" line, a century-old Rottweil series of higher-quality loads, gets an upgrade with the "Pappe" variant, featuring a new wad design that will optimize and stabilize the pattern to obtain better results in gamefowl hunt.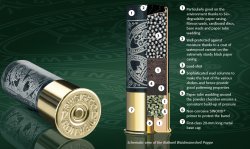 RUAG Ammotec GmbH - RWS Munition
This, of course, doesn't means that tradition will be shelved: the case will still be realized in black-painted cardboard, a choice made to preserve the classic appeal of the Weidmansheil ammunition while keeping up with the global trend of using an ever-increasing percentage of highly-biodegradable materials in ammunition manufacturing: the environmental-friendly spirit keeps on growing and growing in the world of hunting, although the most hard-core supporters of an all-out global ban on hunting still ignore it.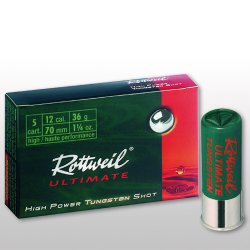 RUAG Ammotec GmbH - RWS Munition
The term "Environment-Friendly" also totally applies to the second new Rottweil product for the year 2012: the "Ultimate" shotshells, conceived to answer to the multiple bans on polluting lead shots worldwide, and to the claims of those hunters who state that steel shots don't represent a valid alternative as they lack effectiveness over preys.
The Rottweil "Ultimate" shotshells are loaded with tungsten balls. Said high-density, yet very pliable material offers incredible terminal effectiveness over the target, still being lighter than both lead and steel, thus featuring higher range capacities. The 36g Rottweil "Ultimate" shots feature a 375 meters-per-second muzzle velocity and a range exceeding 50 meters; at this same distance, they retain at least 1/3 more energy than their most direct lead- or steel-loaded commercial counterparts.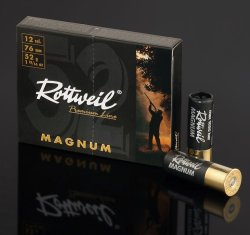 RUAG Ammotec GmbH - RWS Munition
Last, the 32g and 52g Rottweil "Magnum" 12-gauge and 20-gauge shotshells, featuring lead shots, plastic wads and enhanced propellant load, are guaranteed to satisfy the most demanding game bird hunters. The muzzle velocity of the Rottweil "Magnum" shots exceed 380 meters-per-second for the 12-gauge loads and 370 metres-per-second for the 20-gauge loads, ensuring a tighter pattern and thus a most accurate delivery against preys, even when a fast shot is required.
 Article also available in other languages