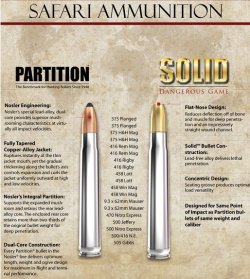 Nosler® Inc., manufacturer of some of the world's finest bullets, brass, ammunition and semi-custom rifles is proud to announce one of the most important new products introduction in the history of the company. Nosler's new-for-2012 offerings include an ammunition line specifically conceived for Safari and dangerous game hunting, and has been developed jointly with the Swedish-based NORMA Precision company. 
Soon to be available at participating dealers, retail sporting goods stores and online retailers, and loaded with either the Partition® or Nosler Solid™ and designed for the same point of impact with either bullet, Nosler's Safari Ammunition provides the ultimate versatility for any dangerous game situation.

For years, hunters around the globe have relied on the quality and consistency of Nosler bullets. That same quality and consistency will now soon available in both 10 and 20 round boxes of Nosler Safari Ammunition, in fifteen different calibers: 9.3×62, 375 H&H Magnum and Flanged, .303 Jeffrey, .416 Rigby and Remington Magnum, .458 Lott and Winchester Magnum, .470 Nitro, .500 Jeffrey, .500 Nitro Express, .505 Hibbs, .416 and .500 Nitro Express.