Article also available in other languages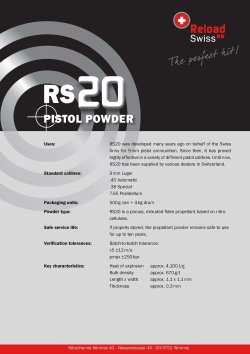 RS - Reload Swiss: this is the name of a recently announced, brand new line of high-performance reloading powders, to be made available in October 2013 by, Nitrochemie Wimmis AG, a Swiss-based company specializing in propellant powders born out of aa joint venture between two great specialist enterprises, the German Rheinmetall and RUAG Ammotec groups.

Sport shooters and hunters who demand the utmost precision prefer to load their own ammunition. Here, having the right powder is vital. Consistent quality coupled with even combustion properties enables excellent accuracy in all weather conditions.

The RS - Reload Swiss line of powders offers just the right propellant for do-it-yourself ammunition loading, with three types of pistol powder and seven rifle powders now available.

This means that the RS - Reload Swiss line meets or exceeds the needs of all disciplines and potential applications for pistols and rifles.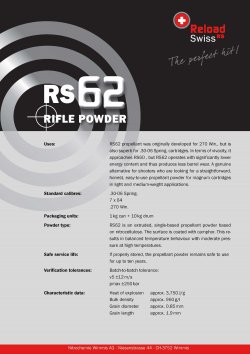 Flowing into the development and production of the RS - Reload Swiss line of powders is the longstanding experience of Nitrochemie Wimmis AG, which for nearly a century has enjoyed a global reputation for first-rate propellants. Meticulous quality control at every stage from sourcing to production to packaging ensures consistent product excellence capable of meeting the most demanding expectations.

An efficient sales network throughout Europe assures a reliable, convenient source of supply. The products of the RS - Reload Swiss line have already won over a number of leading international competitive sport shooters.
As Beat Steuri, Managing Director of Nitrochemie, explains: « The fact that our powder meets our customers' high expectations with regard to performance, precision and reliability really ought to go without saying – after all, we're building on our immense experience in applying these technologies to military uses.»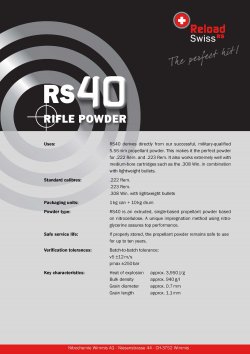 As a matter of fact, at least two out of the ten different powder compounds that Nitrochemie Wimmis AG plans to launch commercially within the RS - Reload Swiss line are directly based upon powders specifically conceived for military purposes. So to speak, the baseline RS20 pistol powder, ideal for 9x19mm loads but also well suited for other popular calibers such as .30 Luger, .38 Special or .45 ACP, was developed years ago following a Swiss Army request; similarly, the RS40 derives directly from Nitrochemie's successful, military-qualified 5.56 mm propellant powder, which makes it ideal for .222 and .223 Remington reloads as well as for medium-bore cartridge reloads, eg. .308 Winchester lightweight bullet loads.
And yet, these are just the tip of the Iceberg.
Again, as declared by Beat Steuri: «We supply our customers with perfectly balanced, top-quality products. Our R&D is totally oriented to the needs of the customer, while production takes place in accordance with the highest standards of the time-honoured 'art of the powder maker'. Finally, every product we make is optimized through extensive ballistic testing in the laboratory and in the field. As a result, our customers – whether they're hunters or sport shooters – are able to concentrate on hitting the target, knowing that they can totally rely on our technology.»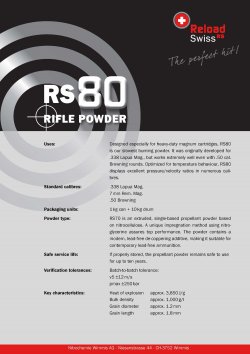 All the propellants of Nitrochemie's RS - Reload Swiss line will be sold in 1 Kg. kegs or 10 Kg. drums, and all are extruded, porous, single-based propellants based on nitrocellulose. Four variants (RS20, RS30, RS50, RS62) feature a camphor-coated surface which results in balanced temperature behaviour with moderate pressure at high temperatures, while the other six versions (RS24, RS40, RS52, RS60, RS70, RS80) are obtained through a unique impregnation method using nitroglycerine to assure top performance; the RS70 and RS80 powders, the line's hottest products, contain a modern, lead-free de-coppering additive, making it suitable for contemporary lead-free ammunition. If properly stored, all the propellant powders of Nitrochemie's RS - Reload Swiss line will remain safe to use for up to ten years.
Distribution is slated to start globally in October, while a small number of retailers in Switzerland already received the first batches.