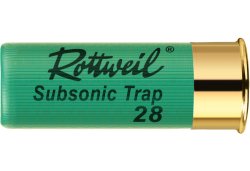 RUAG Ammotec GmbH - RWS Rottweil
Rottweil Subsonic Trap
All shooters asking for a reliable yet safe load to use for gun tuning and self-training in shooting ranges will definitely take advantage from the Rottweil's new "Subsonic Trap" 12-gauge shotshells, specifically engineered to keep noise signature to a minimum. Particularly suited for those hunters who want to prepare themselves for the best while waiting for the next hunting season to start, the new Rottweil "Subsonic Trap" loads will also provide the best performances in competition use, especially when employed in over-and-under and side-by-side shotguns, given the reduced load that might (just like any other reduced-load shotshell) be cause of some cycling problems with semi-automatic shotguns. Those shooting ranges that are bound to respect noise pollution limits might take advantage of the properties of the "Subsonic Trap" ammunition as well.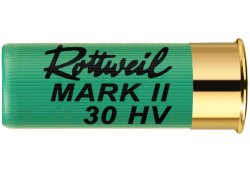 RUAG Ammotec GmbH - RWS Rottweil
Rottweil Mark II 30 HV 
Small game hunting requires the use of shotshells loaded with high-velocity, small-diameter pellets to avoid excessive venison damage. Rottweil's new Mark II 30-HV 12-gauge shotshells have been specifically engineered to meet these needs with a reduced-weight pellet load (30g), also featuring a smaller diameter (2.7mm or 3.2mm) that will help the pattern to reach a higher velocity and enhance first-shot hit probabilities, especially against fast-paced or fast-flying small game.
RUAG Ammotec GmbH - RWS Rottweil
Rottweil 12F Streu 
One last addition to the Rottweil's "Basic Line" will be available everywhere starting fall 2012: the 12F "Streu" shotshell holds a 32g, 2.7mm pellets load with a fibre wad, offering a wide pattern spread area at the closest distances, which makes it extremely fit for use when hunting preys such as waterfowl, rabbits and hares.