Headquartered in the northern Bavarian city of Fürth, just north-west of Nürenberg and in the heart itself of Frankonia, RWS Munition is one of the world's best known manufacturers of hunting and sports shooting ammunition. RWS products aren't known for being exactly cheap, but again, we're talking about some of the world's finest ammunition: 100% conceived, developed and manufactured in Germany, RWS ammunition delivers superior quality at what is, after all, a fair price for it.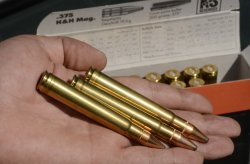 As a matter of fact, the astounding performances of the RWS ammunition is acknowledge by shooters worldwide... even in the United Kingdom, probably the Country with the strictest gun control in Europe and one of the world's worst under this point of view. 
The hunters and sports shooters' community has been steadily decreasing in number for years, following decades of anti-gun laws that plagued honest citizens without curbing crime. 
And yet, British shooters are some of the world's most expert, and most demanding; that's why RWS is playing an increasingly important part on the British market: shooters from the Foggy Albion know what's best, and always ask for the finest!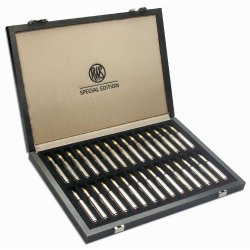 And indeed, the tip of the RWS spear is definitely the Evolution line of centerfire hunting rifle ammunition. 
Combining centuries of experience in ammunition manufacturing, the EVO-bullet − conceived upon a revolutionary aerodynamic geometry and a ballistic calotte that ensure great internal accuracy for an extended trajectory and high impact energy transmission even at long shooting distances − stays largely mass stable, upon impact with hard targets, whereas the classic soft point bullets fragment on hitting stronger bones and have less residual energy for perfect penetration and bullet exit; due to the special bonding of the lead core with the Tombac jacket (Power Bonding, yet another patented technological achievement from RWS!) the EVO-bullet achieves a residual weight of almost 100% and this way ensures a high exit probability, granting better results even with the strongest game.
That's the reason why the fine folks at Fieldsports Britain, one of the UK's most known, authoritative and followed TV channels dedicated to hunting, fishing and other outdoor sports, paid a visit to the RWS plant in Fürth to observe and document the impressive process behind the manufacture of the EVO-Bullet and the RWS Evolution line of ammunition loads. 
The result is a 22-minutes long video, that's now been uploaded on YouTube for your viewing pleasure. It's all there: the highly experienced workmanship, the technology, the top-notch materials, the strict quality controls on all phases. 
That's an extraordinary testimony of what happens behind the closed doors of such a premier ammunition maker, and yet another proof of how, and why, the RWS brand delivers nothing but absolutely superior cartridges for the discerning hunter and target shooter.
Enjoy!
This video has been hidden because of an external service (YouTube) that could potentially collect personal data.Allow video services for the duration of the visitAllow video servicesStop allowing video services