Article also available in other languages
Hornady Manufacturing, one of America's premiere names in the ammunitions industry, capitalized on the "Zombie Pandemic" craze that hit the gun market a few years ago with the launch of the Z-MAX, or Zombie Max, line of ammunition for handguns, rifles, carbines, and shotguns. "Clean" of marketing stunts, the Zombie Max ammunition represents one of the best offers from Hornady in terms of hunting and defensive loads.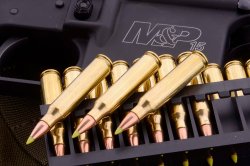 The "Zombie Max" loads are pretty much akin to Hornady's earlier V-MAX loads, themselves highly regarded as some of the best ever marketed commercially by the company in terms of accuracy, range, and stopping power. Much like the V-MAX, the "Zombie Max" ammunition features a full metal ball with a very small, thin and long apical cavity filled in green polymer. The tip of the polymer core protrudes from the top of the bullet, vaguely resembling − albeit only aesthetically − the painted steel penetrator in military-grade small arms ammunition. The purpose of the polymer filling is actually to act as an initiator for the expansion process, once the bullet hits its target. The kinetic energy transfer will allow the bullet to form a large wound cavity in the target's tissue, with massive knockdown power and yet containing damage to the flesh. Result is a higher chance of first-shot, clean kills.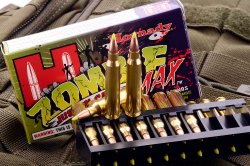 Hornady's "Zombie Max" ammunition line offers nine different chamberings for handguns, rifles and shotguns, selected within these most common and popular between sportsmen, hunters, defensive shooters and professionals worldwide.
Pistol calibers include: .380 ACP (90gr. ball), 9x19mm (115gr. ball), .40 Smith & Wesson (165gr. ball) and .45 ACP (185gr. ball).
Rifle calibers include: .223 Remington (55gr. ball), 7.62x39mm (123gr. ball and steel case), .30-30 Winchester (160gr. ball) and .308 Winchester (168gr. ball).
Last, but not least, shotgun shooters also have the choice of a "Zombie Max" 12-gauge, 70mm/2.¾" shotshell, dubbed the Z-SHOT, offering a 00 Buckshot load (8 pellets) and sold in a 10-pieces box.

Much like all other Hornady products, the "Zombie Max" loads are available commercially worldwide through the international network of authorized Hornady distributors: see the list here.

Article also available in other languages