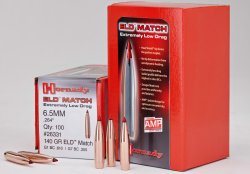 The Hornady Manufacturing company conceived a new polymer bullet tip, dubbed the Heat Shield Tip, manufactured out of a new synthetic blend that will resist aerodynamic heating and makes out for the perfect meplat with exceptionally consistent results from bullet to bullet and lot to lot, particularly in high ballistic coefficient load.
Said new meplat is featured in the new extra low-drag bullets – the expanding ELD-X and the Match-grade ELD-M – used to load the new rifle ammunition lines showcased by Hornady at the SHOT Show this year.
Available in eight popular hunting calibers, the Hornady Precision Hunter line is loaded with the superior ELD-X bullet and provides ultra-effective terminal performance at all practical ranges standard of accurate, deadly and dependable hunting performance. 

On the other hand, the Hornady Match Ammunition line features ELD-M bullets in 6,5mm, .30, 7mm and .338 calibers, on a weight range between 140 and 285 grains and as of today in two calibers – 6.5 Creedmoor and .338 Lapua Magnum, with more to come in the future – for ultimate accuracy in long-range competitions.