DDupleks Ltd., an ammunition manufacturing company headquartered in the Latvian capital city of Riga, has lately conquered worldwide fame and prestige thanks to its DUPO line of shotgun shells. Available in basically every existing shotgun caliber, the DUPO line features full steel slugs with a frontal pre-cut expansion pattern totally coated in polymer; these slugs expand upon impact in an extremely effective way, resulting in unparalleledly wide wound channels and high energy transmission on the target for clean kills in hunting and fast, effective neutralization of threats in Military/LE applications.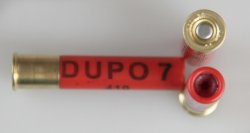 One of the latest entries in DDupleks' DUPO line is the DUPO 7 .410-gauge shotshell, the only expansive and lead-free ammunition available on the market today for this kind of caliber, thus ensuring both great performances for all uses, from hunting to home, personal and property defense, and viability even in those areas where lead-based ammunition has been banned from hunting use on basis of environmental concerns. It's no wonder if DDupleks decided to launch a .410-gauge version of its DUPO line: a virtually recoilless caliber, featuring basically zero muzzle flash and climb, the .410-gauge is still a favourite for leisure shooting and basic training of young shooters, and also turns out to be an excellent, and increasingly popular, alternative to higher-power shotshells when it comes to home defense, given its low overpenetration risks and high ease of use in confined spaces and in low-light conditions or in total darkness, all while still retaining an excellent degree of stopping power, comparable at least to a .45 Long Colt handgun cartridge − and in fact the increasing market demand for .45 Long Colt/.410-gauge double-caliber revolvers for personal and property defense might have ultimately persuaded DDupleks to create a .410 version of its highly regarded expanding shotshells.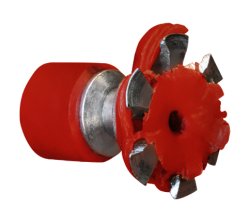 The .410-gauge DDupleks DUPO 7 cartridge is available as either a standard or a "Short Magnum" load, comes with 7.1 g/110 gr shells and can travel up to a muzzle speed 1540 feet per second in the standard variant or to 1670 fps in the "Short Magnum" variant, develomping a muzzle energy that may reach 580 feet/pounds (standard) or 578 fp ("Short Magnum"), with an accuracy exceeding 10 cm. @50mt.
Upon impact, the DDupleks DUPO 7 .410-gauge cartridge follows the standard DUPO shotshells "flower" expansion pattern, and can reach up to 1" in diameter, forming a 5"-deep, 5" overall diameter cone. This makes it the most effective .410-gauge load available on the market today, and turns a classic bird game cartridge into a viable alternative even for roe deers. Plus, its low friction levels make it ideal for use on short barrels such as the ones of .410-gauge revolvers, making it a perfect choice for defensive purposes.

---
For further information

DDupleks, Ltd.
Bribibas Gatve 197
Riga, LV-1039

Latvia
Tel.: +371-67272182
Fax: +371-67271797