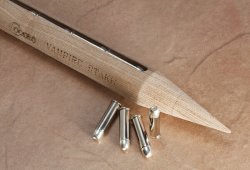 Are you a gun enthusiast and a fan of everything supernatural? Or is somebody you know? Then here is the perfect Christmas gift! From Coonan Inc., the manufacturer that gave us the legendary Coonan Automatic .357 Magnum pistol, comes the Triple Threat: an all-round tool to take out vampires, werewolves and zombies. If you, like many others, are preparing for the incoming zombie apocalypse, and, just like us, are also growing increasingly tired of everything Twilight-ish, then you can't miss this: the hordes of darkness will all succumb to the wooden stake and high-power, silver-plated ammunition combo!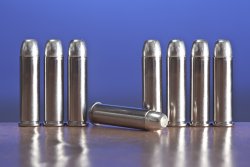 Sold actually more as a nifty curio than anything else, Coonan's Triple Threat kit features a carved wooden stake that doubles as a box for eight rounds of .357 Magnum ammunition, loaded by Coonan Inc. under their own specs and coated with a fancy silver plating. The Coonan loads are extremely hot, reaching up to 1600 feet per second of muzzle velocity, so they are only recommended for very solid revolvers, such as the Ruger GP-100, or for .357 caliber semi-automatic handguns, such as the IWI / Magnum Research "Desert Eagle" or the Coonan Automatic itself. A nice gift idea for the incoming holiday season, the "Triple Threat" kit is already on sale on the Coonan website for 39.95US$.
---
For further information

Coonan, Inc.
4501 103rd CT NE #120
Blaine, MN

55014 - U.S.A.
Tel.: +1-763-786-1720
Fax: +1-763-205-2564