The meticulous hand-loading of cartridges, the careful reconditioning and reuse of spent cases with the best loading components require a lot of spare time, of course, and also expertise and experience. Could one really resort to factory cartridges instead? Yes, as long as they are not "mass-produced" with high manufacturing tolerances, but rather designed as a compromise between handloading and small-batch production. Just as with the handloader, the first step at RWS is to find the ideal load, using a loader with various powder types and quantities and many practical tests to determine the "sweet spot" as the perfect combination, for example with regard to the seating depth of the bullets. However, this must then not only fit the special gun of an individual shooter, but must also fit as far as possible into all standard cartridge chamberings of a caliber and, of course, also comply with the CIP specifications – this is the special skill of RWS ballisticians.

RWS has set itself this high standard with its "Target Elite Plus" ammunition series, to which two popular loadings in .223 Remington and in .338 Lapua Magnum have now been added. The new bullet weights (see table below) were deliberately chosen, also at the request of customers, in order to be able to offer a certain range in the same caliber depending on the barrel twist rate and shooting range.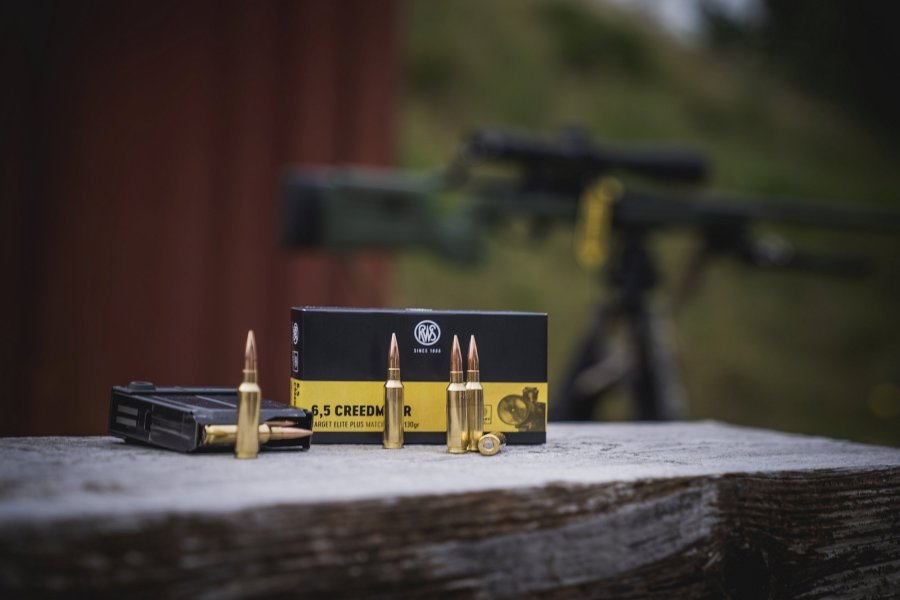 Now also with 9.3-g bullets: RWS Target Elite Plus in 6.5x55 SE and 6.5 Creedmoor
As of Q2 2022, the product line has been expanded to include the trendy long-range 6.5 X 55 SE and 6.5 Creedmoor calibers with heavy Scorion bullets. The two RWS 6.5 Tartget Elite Plus cartridges in handloading quality, each with 8.4 g and now with 9.3 g bullet weight, embody everything that makes a modern precision cartridge! Carefully matched components enable consistently reliable results at long-range distances of up to 1,200 meters. The extremely stable flight characteristics of the bullet used are a key factor in ensuring target accuracy. The streamlined Scorion hollow-point bullet with tail cone stands for the highest manufacturing standards, a high BC value, optimum concentricity and minimal weight fluctuations. The universal caliber range from .223 Rem. to .338 Lapua Mag. ensures new standards in all areas of precision shooting.

The advantages of RWS Target Elite Plus ammunition at a glance:
Highest quality in material and manufacturing
Defined accuracy requirement at 300 m of no more than 16.9 to 25 mm standard deviation in test barrels
For long-range disciplines at ranges of up to 1,200 meters
Big-bore cartridges in handloader quality by the manufacturer
Specially manufactured match shells and selected HPBT match bullets
Consistent point of impact from batch to batch
Engineered for high-end match firearms and suitable twist lengths in the long-range segment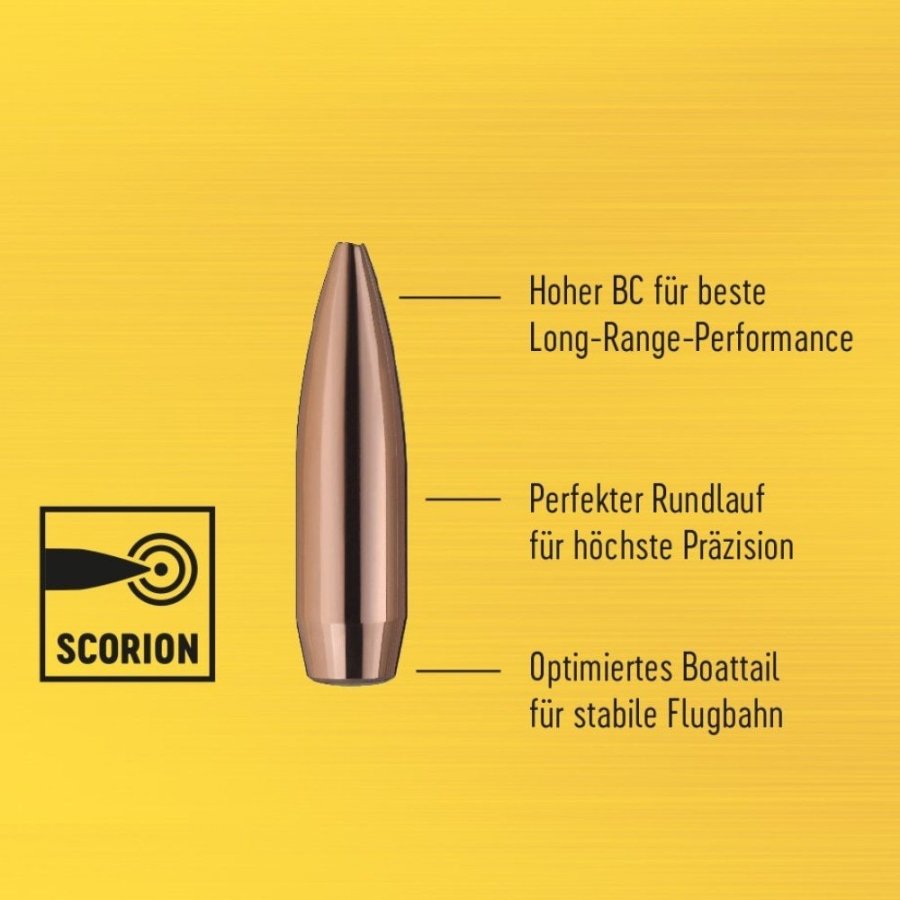 In addition to a precision rifle including a high-quality scope, special match bullets such as the new Scorion bullet from RWS are the decisive factors for repeatable, precise and accurate hitting at long distances under all conditions. The Scorion bullet is a streamlined hollow point bullet with boat-tail design. Highest manufacturing standards, the "Ballistic Coefficient" (BC) optimized design, a perfect concentricity as well as minimal weight fluctuations guarantee maximum accuracy at all ranges. Incidentally, RWS Scorion bullets are available as reloading components, but also feature in the RWS Target Elite Plus product line.

RWS Target Elite Plus – all available loadings:

(The linked article numbers lead to further info).
| | | | |
| --- | --- | --- | --- |
| Article No.    | Caliber | Bullet Weight [grams/grains]     | Contents per package [pieces]  |
| 2411633 | .223 Rem. | 3.4 / 52 | 20 |
| 2411868 | .223 Rem. | 4.5 / 69 | 20 |
| 2403868 | .223 Rem. | 5.0 / 77 | 20 |
| 2409762 | 6.5 Creedmoor | 8.4 / 130 | 20 |
| 2409761 | 6.5 x 55 SE | 8.4 / 130 | 20 |
| 2408632 | .308 Win. | 10.0 / 154 | 20 |
| 2403867 | .308 Win. | 10.9 / 168 | 20 |
| 2408633 | .308 Win. | 12.3 / 190 | 20 |
| 2411681 | .300 Win. Mag. | 11.3 / 175 | 20 |
| 2403866 | .300 Win. Mag. | 12.3 / 190 | 20 |
| 2411680 | .338 Lapua Mag. | 16.2 / 250 | 20 |
| 2405120 | .338 Lapua Mag. | 19.4 / 300 | 20 |
| NEW: 2426658 | 6.5 Creedmoor |  9.3 / 143 | 20 |
| NEW: 2426659 | 6.5 x 55 SE |  9.3 / 143 | 20 |
VIDEO: All basic information on the RWS Target Elite Plus

This video has been hidden because of an external service (YouTube) that could potentially collect personal data.Allow video services for the duration of the visitAllow video servicesStop allowing video services